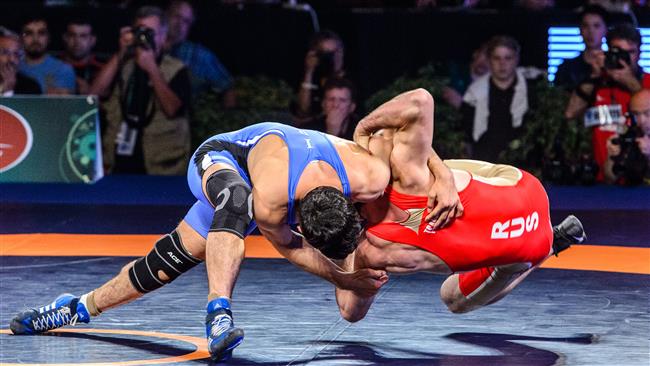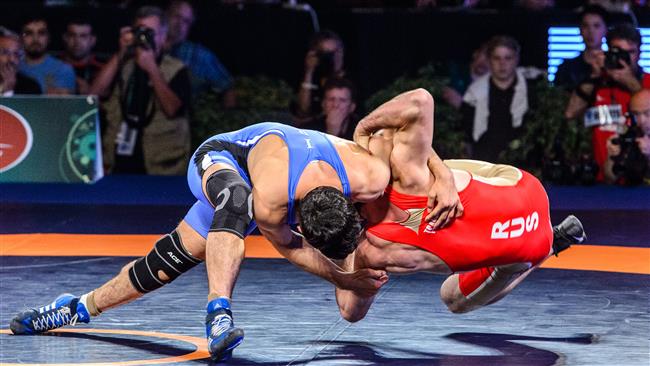 The Islamic Republic of Iran Wrestling Federation (IRIWF) has extended its profound gratitude to the country's Foreign Ministry over lifting a ban on US wrestlers, and allowing them to take part in the 2017 Freestyle World Cup later this month.
"The IRIWF hereby expresses its warmest thanks for cooperation of the respected [Iranian] Foreign Ministry and all executive organs to review the visa case of the US freestyle wresting team for the Freestyle World Cup, which is scheduled to be held on February 16 and 17 in the city of Kermanshah," the Iranian wrestling federation wrote in a letter addressed to the Iranian Foreign Ministry.
On Sunday, Iranian Foreign Ministry spokesman Bahram Qassemi announced in a statement that the visa ban against American athletes was dropped following "the halt in the implementation of discriminatory restrictive measures against the entry of Iranian citizens into the US as well as requests by the Iran Wrestling Federation and the president of the United World Wrestling."
"Following the court ruling suspending #MuslimBan & the requests from Iranian Wrestling Federation & FILA, US Wrestlers' visa will be granted," Iranian Foreign Minister Mohammad Javad Zarif tweeted as well.
Federal Judge James L. Robart ordered a temporary and nationwide halt to US President Donald Trump's controversial travel ban on citizens from seven predominately Muslim nations on Friday evening.
The ruling prompted American authorities to immediately communicate with airlines and begin taking steps that would allow those previously affected to travel.
On January 27, Trump signed an executive order that imposed a 90-day ban on the entry of citizens from Iran, Iraq, Syria, Yemen, Sudan, Libya and Somalia, blocked refugees from Syria indefinitely, and suspended all refugee admissions for 120 days.