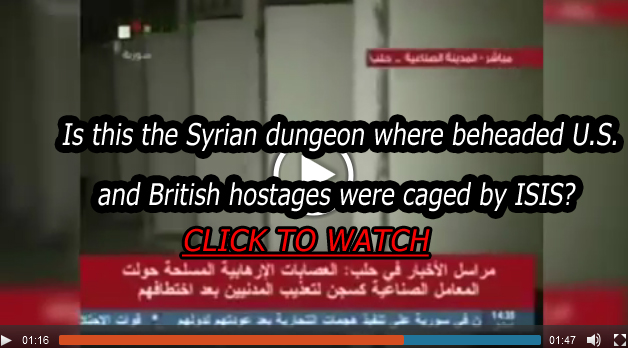 Is this the Syrian dungeon where beheaded U.S. and British hostages were caged by ISIS?

Pictures show factory basement 'where half-starved westerners were held in darkness'
This is the first glimpse inside the secret underground prison where ISIS caged Western hostages – including James Foley, Steven Sotloff and David Haines – former fellow prisoners have claimed.
Freed captives told MailOnline they lived in wretched conditions alongside them, half-starved on hard concrete floors in almost permanent darkness in the basement room of the abandoned factory in the Sheikh Najjar Industrial City, in the suburbs of Aleppo, during the last four months of 2013.
They were then moved to Raqqa, Syria, where they were handed over to their executioner, the infamous 'Jihadi John' and his death squad.
The former prisoners gave a chilling insight into the ordeal that the men – and allegedly one woman – endured in the bleak darkness.
Video Player
00:15
Use Left/Right Arrow keys to advance one second, Up/Down arrows to advance ten seconds.
01:47
Hellish: A Syria TV reporter took this image in an abandoned factory turned ISIS prison in Sheikh Najjar, Syria – unaware that later it would be claimed that it was where Western hostages were kept for months
Source: Al Alam