Middle East
Syria
Turkey
ISIL, Ankara-Backed Terrorists Blackmail Residents of Northern Syria
A large number of the ISIL terrorists have joined Turkey-backed militant groups and are blackmailing the people of Northern Syria on different pretexts, the Syrian Observatory for Human Rights (SOHR) reported.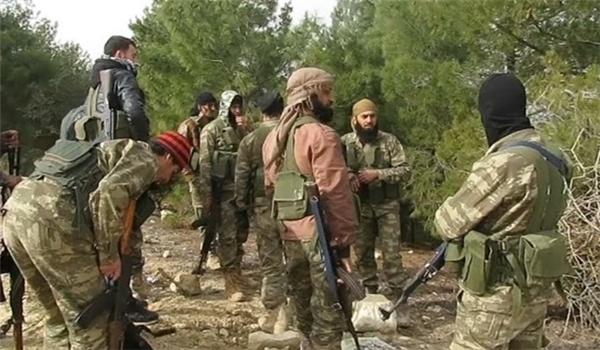 The Ankara-backed terrorist groups and the ISIL are asking for ransom in lieu of releasing their relatives, the SOHR added.
The SOHR claimed that it has spoken to a person who had earlier been kidnapped by Turkey-backed Ferqa al-Hamzat terrorist group.
The person who has just been released noted that a man had received $60,000 on behalf of the terrorists to set free a group of abductees and told him that he had been cooperating with the ISIL terrorists who had merged with Ferqa al-Hamzat.
In a relevant development in late June, over 2,800 civilians were arrested by the Turkish Army and its allied militants in line with the crackdown on the local population by the occupying forces in Northern Syria.
The SOHR reported that the Ankara-backed Free Syrian Army (FSA) terrorists detained at least 31 civilians on different charges, including cooperation with Kurdish units by attacking their houses in the towns of Kafar Zit, lower and upper Kafar Daleh as well as Kazieh in Afrin in Northwestern Aleppo.
It noted that 2,038 civilians, out of 2,800 arrested since the occupation of Afrin, are still in custody of the Turkish Army and its allied militants.
This is while over 760 civilians have been released after paying a ransom of up to 10 million Syrian liras.
In a relevant development earlier in June, thousands of family members of Tahrir al-Sham al-Hay'at (the Levant Liberation Board or the Al-Nusra Front) terrorists were sheltered in areas occupied by the Turkish army in Aleppo to replace the local population.
The Kurdish-language Hawar news quoted a special source as saying on Sunday that Ankara has transferred nearly 190,000 family members of Tahrir al-Sham terrorists from Idlib city to regions stretching from Afrin and E'zaz to the towns of al-Bab, Jarabulus and al-Ra'ei in Northern Aleppo.
It added that Ankara is attempting to expel the local population in Afrin in Northwestern Aleppo and seize their lands and properties, noting that the Turkish army has so far sheltered over 64,000 family members of the terrorists in this region's towns and villages.
Turkey has been aiding the terrorist groups militarily and supporting their family members.