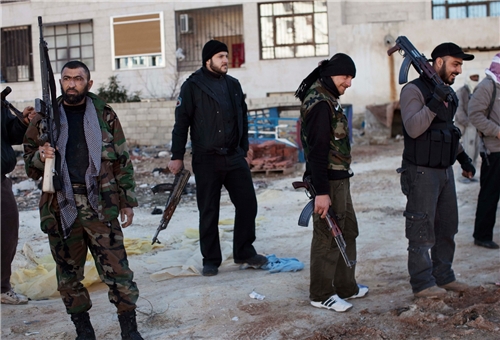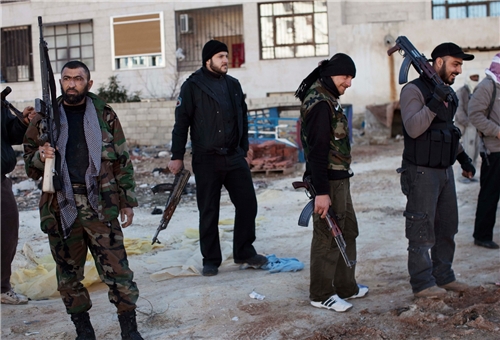 The Al-Qaeda-linked Islamic State of Iraq and the Levant (ISIL) and the Free Syrian Army (FSA) militants fiercely clashed in Idlib countryside in Northwestern Syria on Sunday.
Different regions and villages of Jasr al-Shaqour in Idlib countryside were the scenes of heavy clashes between the ISIL and the FSA militants on Sunday.
Meantime, the Syrian army repelled attacks by the armed rebels on several areas of Idlib countryside, including Sarjeh town near Saraqeb city and Basida village in Ma'areh Al-Nauman countryside.
Elsewhere, the FSA held captive tens of Al-Qaeda-linked militants in Idlib countryside in Northwestern Syria.
Earlier reports had said tha the FSA militants have taken more than 100 militants of the Islamic State of Iraq and the Levant (ISIL) in Idlib countryside.
The FSA also took dozens of residents of Al-Dana border town captive for cooperating with the ISIL.
After more than two years of fighting side-by-side and leading one of the bloodiest conflicts in the recent history of Middle-East, FSA and al-Qaeda affiliated groups have been making increasing moves against each other to come in control of the armed insurgency.
Militants in Syria have been committing numerous war crimes against people and Syrian army soldiers throughout the country during their bloody war.
The conflict in Syria started in March 2011, when sporadic pro-reform protests turned into a massive insurgency following the intervention of western and regional states.
The unrest, which took in terrorist groups from across Europe, the Middle-East and North Africa, has transpired as one of the bloodiest conflicts in recent history.
As the foreign-backed insurgency in Syria continues without an end in sight, the US government has boosted its political and military support to Takfiri extremists.
Washington has remained indifferent to warnings by Russia and other world powers about the consequences of arming militant groups.