Syria
ISIL Suffers Heavy Casualties in Syrian Air Raid on Terrorists' Command Post in Sweida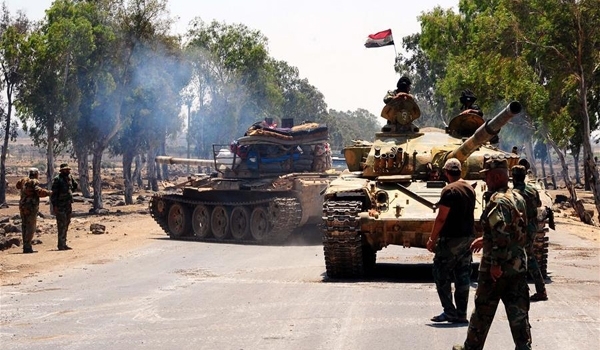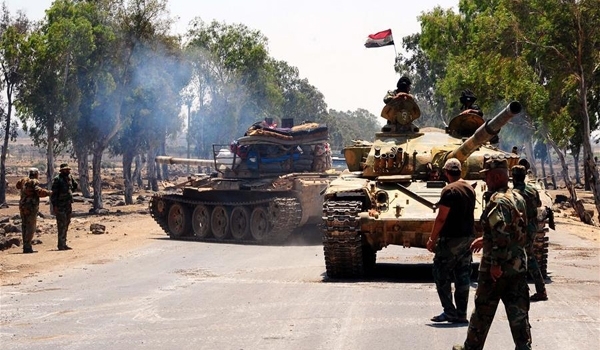 The Syrian Air Force bombed heavily a main command post of the ISIL in Badiyeh (desert) of Sweida, killing over 70 terrorists, local sources reported on Wednesday.
The warplanes targeted and destroyed a main command post of the ISIL in Sheikh Hassan Qabr region East of Khirbet al-Ambashi in the depth of Badiyeh on Tuesday, killing over 70 terrorists and destroying several vehicles and a large volume of arms and ammunition.
In the meantime, the army's artillery and missile units pounded ISIL's movements and positions in Eastern and Northeastern Sweida, inflicting major losses on the militants.
Also, the army units drove terrorists out of a large region between Tal Abu Qanem and Raqilah.
A field source said that Tal Qasr, Ajeelat and al-Dayathah Water Wells were among the hilltops and points the army liberated from ISIL's control yesterday.
On Tuesday, the army men struck ISIL's positions in the villages of Shenvan and al-Saqiyeh and captured several hills and valleys in Badiyeh in Northeastern Sweida.
Other units of the army managed to free Malha Cave region and Tal Sanim in al-Kara'a from ISIL.
The army soldiers further advanced and drove ISIL out of al-Hossan region.
Field sources, meantime, reported that other army units advanced against ISIL in the third flank from Souh al-Majidi and Ba'ar Shaman up to East of Tal Asfar towards Khirbet al-Ambashi and al-Habiriyeh.
The sources further pointed to the army's advances from al-Zalaf towards al-Ruhba region near al-Safa, adding that the army is planning to lay siege on al-Safa region that is supposed to be one of the main bases of the ISIL in Badiyeh.