Iran
Middle East
Syria
ISIL Sustains Heavy Losses in Foiled Attack on Syrian Army's Military Positions in Deir Ezzur
The Syrian Army warded off an attack by the ISIL terrorists on a strategic road near the border with Iraq after the US plot to take control of strategic cities in Eastern Deir Ezzur were exposed.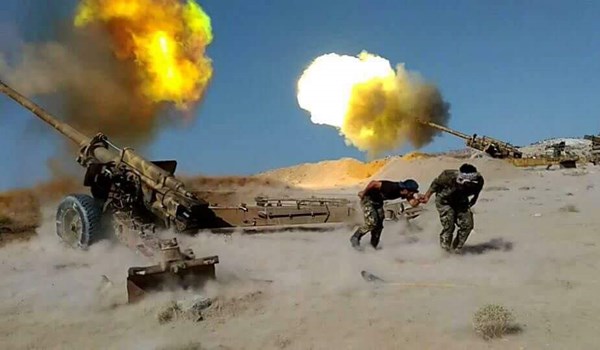 The Syrian Army units engaged in fierce clashes with the ISIL terrorists in Sayyal town along Deir Ezzur-Bukamal road in Eastern Deir Ezzur, the Arabic-language website of Russian Sputnik news agency quoted a Syrian Army military source as saying.
The source pointed to fending off the ISIL's attack and inflicting heavy losses on them, and rejected the news reports that Deir Ezzur Airport has came under attack.
Meantime, ISIL's attacks on the Syrian Army military positions near Bukamal border road have intensified after the US disclosed its plan to occupy the strategic regions of Al-Mayadeen and Bukamal cities and cut off Bukamal border crossing.
In a relevant development on Monday, the Syrian media said that the US plans to occupy the strategic border regions in Eastern Deir Ezzur, including the cities of Bukamal and al-Mayadeen, through launching attacks and urging the US-backed militants to recruit more forces in besieged al-Rukban Camp.
The Arabic-language Al-Watan newspaper quoted sources close to militants as saying that the US-backed Jeish Maghavir al-Thura has forced tens of youth in al-Rukban Camp to join their ranks in al-Tanf region near the borders with Iraq.
It pointed to the intensive military training given to the people, including light and heavy weapons, and said this attempt is taking place in line with imminent US attack on the Syrian Army as well as an attempt to occupy the two strategic cities of Bukamal and al-Mayadeen in Eastern Deir Ezzur.
Al-Watan newspaper also quoted informed sources as saying that the Syrian Democratic Forces (SDF) backed up by the US-led coalition forces have dispatched elite forces to al-Amr Oil Region.
The sources also pointed to efforts by the SDF to send further equipment to the region, and said that the main aim for this operation is cutting the international Beirut-Damascus-Baghdad-Tehran road.