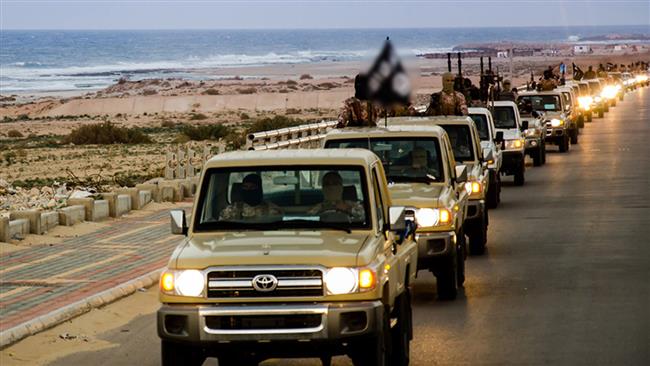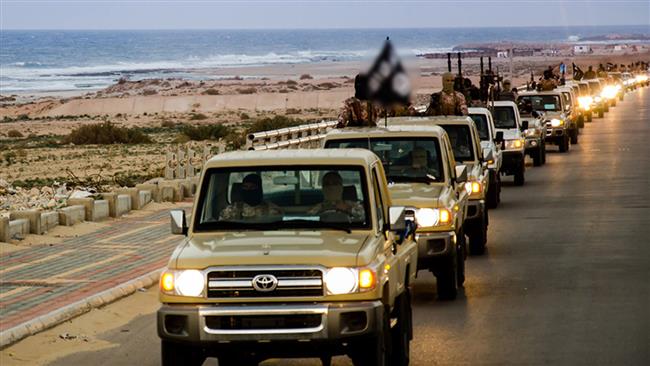 Members of the Takfiri Daesh (ISIL) terrorist group have reportedly abducted 12 Egyptians in northern Libya.
Local sources, requesting not to be identified, said the Egyptian nationals were heading back home on Monday evening when Daesh extremists stopped them on a road in the Libyan port city of Sirte, located 450 kilometers (280 miles) east of the Libyan capital city of Tripoli, and took them away.
The abductees were mainly construction workers who were building a prison as well as several administrative buildings in Sirte. There were a number of Coptic Christians among the kidnapped Egyptian citizens.
On February 15, Daesh released a video that purportedly showed the beheading of 21 Egyptian Christians at the hands of the terrorist group in Libya. The footage showed the handcuffed hostages dressed in orange jumpsuits kneeling down along the seaside near the Libyan capital, Tripoli.
The North African country has in recent months witnessed an increasing presence of Daesh, which has taken control of swathes of land in the Middle Eastern countries of Iraq and Syria. The Takfiri group has also carried a number of terror attacks in other parts of the world in recent months.
Taking advantage of the chaos across Libya, Daesh has established a foothold along the African state's Mediterranean coast.
Libya descended into chaos following the 2011 popular uprising that toppled former dictator Muammar Gaddafi. The ensuing turmoil fragmented the country into two governments and parliaments, leaving a power vacuum, with neither of the warring sides strong enough to hold authority.
The United Nations (UN)'s Special Representative and Head of the UN Support Mission in Libya Bernardino Leon said on September 13 that rival militant parties in the country had arrived at a "consensus" on the main elements of a political agreement.