General
ISIL Terrorist Team Equipped with Suicide Vests Disbanded in Iran
Commander of the Special Unit of Iran's Law Enforcement Police Brigadier General Hassan Karami said that his forces have dismantled an ISIL terrorist team that plotted to carry out suicide attacks in the holy city of Qom in Central Iran.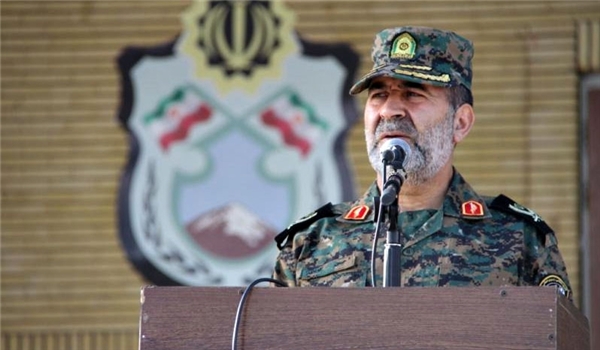 "An ISIL terrorist team entered Iran in 2016 and it stationed in Kermanshah [at Western borders of Iran]. We could identify them with intelligence monitoring and the Police Special Unit entered the scene and killed all members of the terrorist team because they resisted and did not surrender," General Karami told FNA on Tuesday.
He added that the three-member terrorist team was equipped with suicide vests.
"They had come to Iran for a suicide operation inside Hazrat Ma'asoumeh (AS)'s shrine in Qom and fortunately they were identified and killed," General Karami said.
The Iranian police, border guards and the IRGC are actively engaged in security operations against anti-Iran terrorist groups.
Commander of the Islamic Revolution Guards Corps Ground Force Brigadier General Mohammad Pakpour announced late last month that the IRGC forces had engaged in over 50 clashes with the terrorists at the Iranian borders and killed tens of militants since late March.
"Over 50 cases of attack have happened in the past 6 months which have led to clashes and considerable tolls have been inflicted on the terrorists' operational teams at the Northwestern and Southeastern borders of Iran," General Pakpour told FNA.
He also added that several Takfiri and terrorist teams in the Western borders of Iran have been dismantled completely by the IRGC Ground Forces and tens of terrorists have been killed in the past three years.
General Pakpour underlined that security and tranquility prevails at the Iranian borders despite all moves made by the terrorist groups due to the intelligence superiority and preparedness of the IRGC Ground Force's units.