Syria
ISIL's Security Chief in Homs Killed in Syrian Army Attack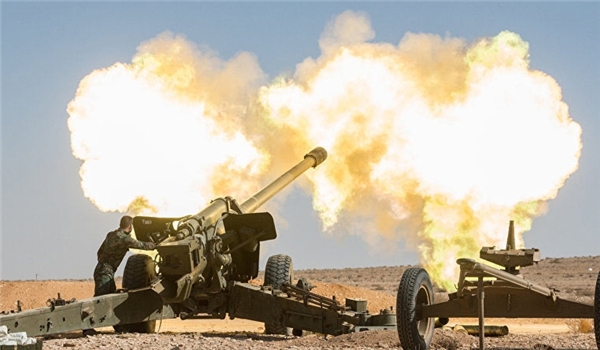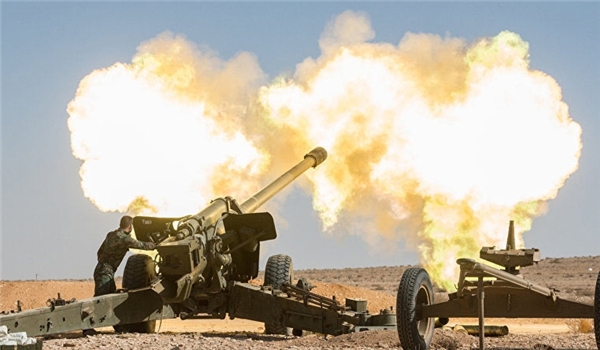 The Syrian Army's artillery units shelled ISIL's bases in Eastern Homs, killing at least four militants, including the terrorist group's security commander.
At least four ISIL militants were killed and over a dozen more were wounded under the heavy fire of the Syria army's artillery units in Eastern Homs.
Abu Hafs al-Mashrifi, the ISIL chief of security in Homs, who used to lead the terrorist group's security operations in Homs province, was killed along with other terrorists under the Syrian army fire in the village of Huweises East of Homs.
A source close to the ISIL also confirmed al-Mashrifi's death. The attack also destroyed two ISIL vehicles and a tactical unit.
Also, the Syrian ground and air forces pounded the command centers and hideouts of the ISIL and al-Nusra Front (recently renamed to Fatah al-Sham Front) in the Northern and Eastern parts of Homs on Thursday, inflicting heavy damages and casualties on them.
The Syrian army forces targeted the ISIL terrorists in the Northern parts of Katiba al-Mahjoura, Be'r al-Fawa'er, and Jahar in West of Palmyra (Tadmur) in Eastern Homs, killing a number of terrorists and destroying 10 military vehicles.
Also, the Syrian soldiers attacked the militants' positions in al-Rastan, Talbiseh, and several villages in Northern Homs which smashed their bases and killed tens of them.
The Syrian fighter jets, meantime, targeted the gathering and command centers of al-Nusra Front in the Northern parts of Ezz Iddin village in Northern Homs which blew up their military equipment and killed dozens of militants, including one of their commanders, namely Abu Odai.