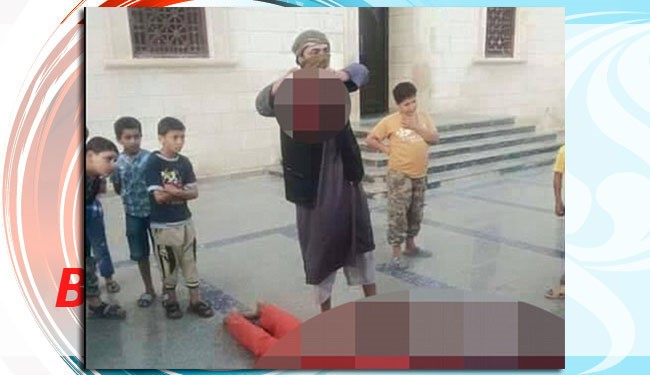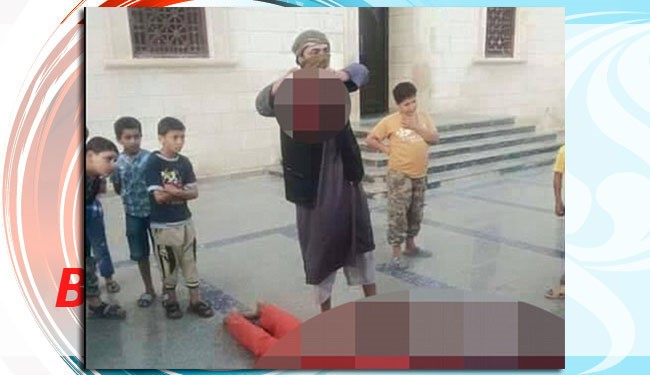 Barbaric "jihadis" fighting for the "Islamic State in Libya" have brutally beheaded a government soldier outside a mosque while children no older than eight years old look on.
The savage execution took place in the northern port city of Derna, which was seized by ISIS militants in October last year as the country tore itself apart in civil war.
The chilling photographs show the soldier wearing an orange jumpsuit as he is dragged into a public square and executed.
A second shot shows a depraved militant holding the man's head aloft while young boys are allowed to crowd around his bloodied corpse for what ISIS described as 'education purposes'.
It is believed he was captured by ISIS earlier this week and charged with 'apostasy', which essentially meant not practicing Islam according to ISIS' barbaric interpretation.
The images were released by ISIS' local 'Wilayat Barqa' terror cell, who added that the children had been allowed to see the brutal murder up close for 'education purposes'.
Within hours of the execution photographs emerging online, an unknown Libyan cartoonist released a chilling illustration captioned 'Derna and the future of its children'.
The internationally recognised government now has its headquarters in the eastern city of Tobruk, with militant groups such as ISIS exploiting the chaos and power vacuum in cities such as Derna and Sirte to establish Libyan strongholds.