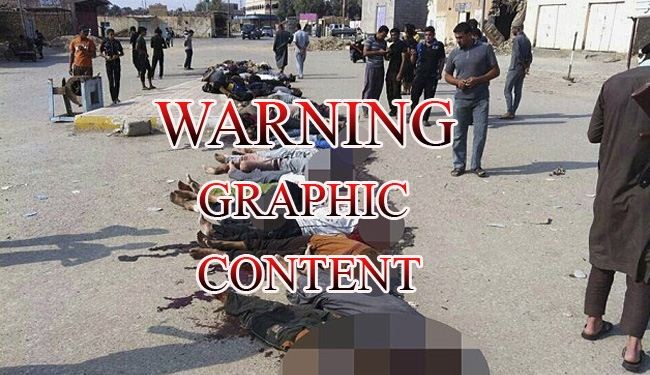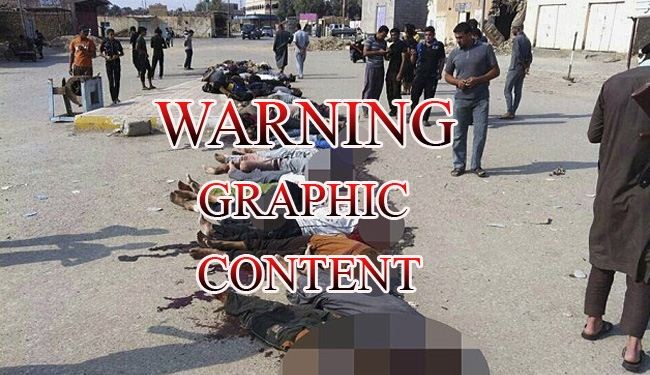 ISIS militants executed at least 220 Iraqis in retaliation against a tribe's opposition to their takeover of territory west of Baghdad, security sources and witnesses said.
Two mass graves were discovered on Thursday containing some of the 300 members of the Sunni Muslim Albu Nimr tribe that ISIS had seized this week. The captives, men aged between 18 and 55, had been shot at close range, witnesses said.
The bodies of more than 70 Albu Nimr men were dumped near the town of Hit in the Sunni heartland Anbar province, according to witnesses who said most of the victims were members of the police or an anti-IS militia called Sahwa (Awakening).
"Early this morning we found those corpses and we were told by some ISIS militants that 'those people are from Sahwa, who fought your brothers theISIS, and this is the punishment of anybody fighting ISIS'," a witness said.
The insurgents had ordered men from the tribe to leave their villages and go to Hit, 130 km (80 miles) west of Baghdad, promising them "safe passage", tribal leaders said.
They were then seized and shot. A mass grave near the city of Ramadi, also in Anbar province, contained 150 members of the same tribe, security officials said.
The Awakening militia were established with the encouragement of the United States to fight al Qaeda during the U.S. "surge" offensive of 2006-2007.
Sheikh Naeem al-Ga'oud, one of the leaders of the Albu Nimir tribe, said: "The Americans are all talk and no action."
ISIS was on the march in Anbar this year even before it seized much of northern Iraq in June. As the government and fighters from the autonomous Kurdish region have begun to recapture territory in the north, ISIS has pressed its advances in Anbar, coming ever closer to Baghdad.
ISIS warning against opposition
Back when the extremists took over the northern Iraqi city of Mosul in June, police Col. Mohammed Hassan was among some Sunnis in the security forces who surrendered, handed over their weapons and pledged to cut ties with the police. In return, the militants gave them "repentance badges" granting them some safety.
But now, the ISIS group suspected Hassan was engaging in activities against it.So last week, IS fighters stormed Hassan's house at night. Hassan and his son fought back, killing three attackers before they were gunned down. The militants then hung his mutilated body from a fence for several days near his home as an example, according to two residents who witnessed the battle and were aware of the events leading up to it.
They spoke to The Associated Press on condition of anonymity for fear of reprisals.
The past few weeks, the ISIS group has been hunting down former policemen and army officers in areas it controls, apparently fearing they might join a potential internal Sunni uprising against its rule.
While world attention has been focused on the battle to fend off the extremists' assault on the town of Kobani across the border in Syria, the group has killed dozens of its opponents this month in Iraq. In several instances, Sunnis have been lined up in public squares and gunned down or beheaded as a warning.
The aim is to prevent the Baghdad government from finding Sunni allies against it at a time when Kurdish fighters and Shiite militias have made some gains, taking back several towns from the militants.
Mosul, the largest city in the group's self-styled "caliphate," has seen increased killings. Last week, Mosul's governor, Atheel al-Nujaifi, who was driven out of the city in the militant takeover, said pro-government Sunni militias were being formed in the city, made up of mainly of former army and police officers.
Soon after, ISIS group militants rounded up 20 former police officers from villages south of Mosul. Hours later, their bodies _ all with gunshots to the head _ were handed over to the morgue, according to morgue officials, who spoke on condition of anonymity for fear of retaliation.
In a separate incident, the militants shot to death police Col. Issa Osman after parading him through Mosul's streets. Osman's battalion was the last unit to give up fighting in Mosul during the June takeover, and afterward he also renounced ties to the security forces, receiving a "repentance badge" from the extremists.
Military spokesman Brig. Gen. Saad Maan Ibrahim also said anti-IS militant groups have been formed in Mosul. Whether they are part of armed groups or not, former police and army officers are a potential threat to the militants because they "have the expertise on how to plan an armed uprising and they have good knowledge of weapons and military operation," Maan told AP.
There have been similar slayings elsewhere under the extremists' domain the past week. Three days ago, IS fighters shot to death two former army officers and three policemen in a public square in the northern city of Beiji, residents said. They announced to a crowd that the men had carried out mortar attacks on the militants' positions in the city, according to the residents.
At the same time, about 20 former policemen and army officers were rounded up by IS fighters in the town of Shurqat and taken to an unknown location, with no word since on their fate, said an official in Salahuddin provincial council.
On Wednesday, IS fighters beheaded policeman Bahjat Salman in a public square in Ana, a town west of Bagdad, proclaiming him a "traitor," residents said. The residents of Ana and Beiji and the Salahuddin official spoke to AP on condition of anonymity for their own safety.
So far, there has been little sign of an armed revolt in Mosul or other parts of northern and western Iraq under IS control. But the killings could be a sign the extremists' confidence has been shaken.
In Mosul, there has been resentment among some Mosul residents fueled by the group's enforcement of its extremist interpretation of Islamic law, a lack of public services and stagnation in business.
"Most Mosul people want to get rid of this savage organization," said a resident speaking on condition of anonymity for fear of reprisals. "We are waiting for any effort to save us."
ISIS, an al Qaeda offshoot, has beheaded or shot dead anyone it captures who opposes its ideology. Its gunmen systematically executed about 600 inmates from Badoush Prison near the city of Mosul in June.
Human Rights Watch on Thursday said – citing the accounts of 15 survivors – which the extremists carried out a mass killing of around 600 Shiite Muslim inmates being held in Mosul's main prison when the group captured the city in June.
The Shiites were separated from several hundred Sunni and Christian inmates who were set free, then the Shiites _ along with a number of Kurds and Yazidis _ were forced to kneel on the edge of a nearby ravine and were mowed down with automatic weapons.