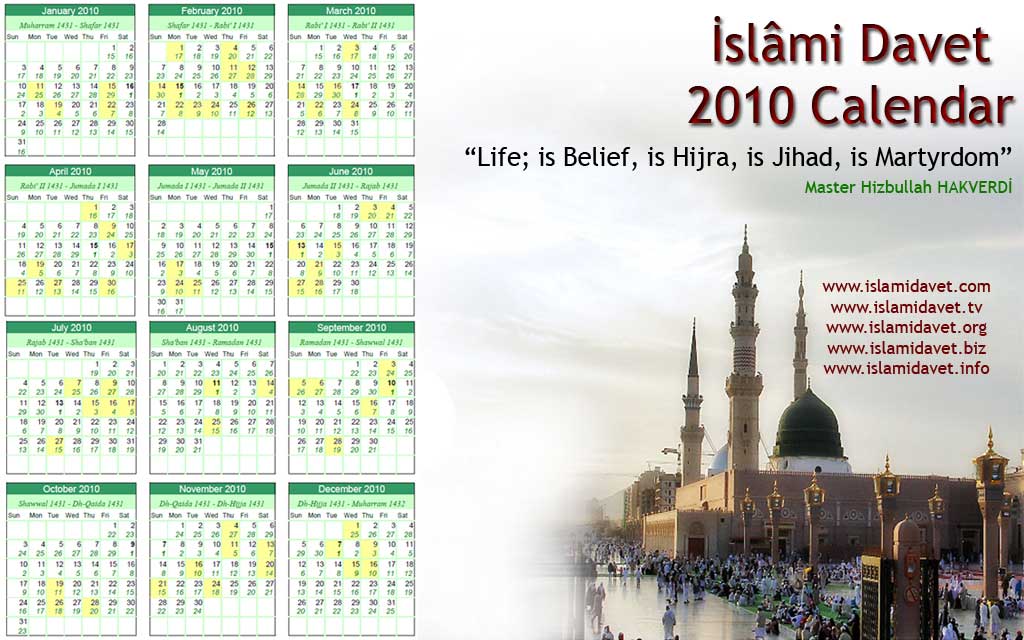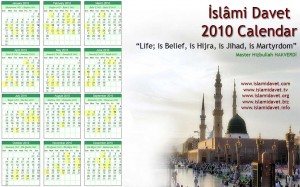 As-Salaamu Alaikum wa Rahmatullahi wa Barakaatuh…
Our Calendar prepared for Hijri 1431 and Gregorian 2010. Yellow colored days are Days of Allah which announced in our web site.
Our calendar prepared in Turkish and English as soon as possible in our calendar for the month will be prepared. If you want to use as a desktop calendar picture or use suppression.
Calendar files prepared four different resolutions are available in jpg and rar format.
You can use the following links to download.
1024×640 : jpg – rar
1152×720 : jpg – rar
1280×800 : jpg – rar
1440×900 : jpg – rar
—
01.01.2010 Conquest of Mecca
01.01.2010 Martyrdom of Sheikh Nizar Rayyan
11.01.2010 Martyrdom of Imam Zainal Abidin(as)
15.01.2010 Martyrdom of Sheikh Said Siyam
19.01.2010 Symbol of the Palestinian Resistance Gaza Day
22.01.2010 Imam Musa Kazim (as)'s Birthday
01.02.2010 Beginning at dawn 10 Days Celebration
04.02.2010 40th day Martyrdom of Imam Hussein(as)
11.02.2010 End of 10 Days Celebration at dawn – Iran's Islamic Revolution
12.02.2010 Martyrdom of Imad Mughniyah
12.02.2010 Martyrdom of Hassan al-Banna
12.02.2010 Death of Our Prophet(saa)
12.02.2010 Martyrdom of Imam Hassan(as)
14.02.2010 Martyrdom of Imam Ali Reza(as)
15.02.2010 Imam Ali(as) retire Our Prophet(saa)'s bed
22.02.2010 Martyrdom of Imam Hassan Askari(as)
23.02.2010 Martyrdom of Metin Yüksel
24.02.2010 Marriage of Our Prophet(saa) and Hz.Hatice
26.02.2010 Birth of Our Prophet(saa)
03.03.2010 Birth of Our Prophet(saa)
03.03.2010 Birth of Imam Cafer Sadiq(as)
14.03.2010 Death of Sayyed Ahmad Khomeini(ra)
16.03.2010 Halabja Massacre
22.03.2010 Martyrdom of Sheikh Ahmed Yassin
23.03.2010 Death of Master Bediuzzaman Said Nursi(as)
24.03.2010 Birth of Imam Hassan Askari(as)
01.04.2010 Islamic Republic of Iran Day
09.04.2010 Rupture with Great Satan America
09.04.2010 Deir Yassin Massacre
17.04.2010 Martyrdom of Abdulaziz Rantisi
19.04.2010 Birth of Zainab-i Kubra(as)
25.04.2010 Tebes Victory
27.04.2010 Martyrdom of Fatıma Zehra(as)
30.04.2010 Martyrdom of Morteza Motahhari
17.05.2010 Martyrdom of Fatıma Zehra(as)
24.05.2010 Freedom of Khorramshahr
25.05.2010 Resistance and Victory Day
03.06.2010 Birth of Fatima Zehra(as)
04.06.2010 Death of Imam Khomeini(ra)
13.06.2010 Beginning of Holy 3 Months
13.06.2010 Laylat al-Raghaa'ib
15.06.2010 Martyrdom of Imam Ali Naki(as)
21.06.2010 Martyrdom of Mostafa Chamran
27.06.2010 Martyrdom of Zainab-i Kubra(as)
28.06.2010 Martyrdom of Sheikh Said
28.06.2010 Martyrdom of Beheshti and 72 companions
07.07.2010 Martyrdom of Imam Mosa Kazim(as)
09.07.2010 Isra' Mi'raj
09.07.2010 Prophetic Festival
12.07.2010 Start of 33 day war
15.07.2010 Birth of Imam Hussein(as)
15.07.2010 Revolutionary Guards Day
16.07.2010 Birth of Ebul Fadl Abbas
17.07.2010 Birth of Imam Zainal Abidin(as)
27.07.2010 Laylat ul Berat
27.07.2010 Birth of Imam Mehdi(as)
11.08.2010 Beginning of Holy Ramadan
14.08.2010 Finish of 33 day war
25.08.2010 Birth of Imam Hassan(as)
03.09.2010 Quds Day
05.09.2010 Martyrdom of Imam Ali(as)
06.09.2010 Laylat al Qadr
10.09.2010 Eid ul-Fitr
16.09.2010 Sabra and Shatila Massacre
28.09.2010 Anniversary of Intifada
18.10.2010 Martyrdom of Noorali Sosteri and Commanders
19.10.2010 Birth of Imam Ali Reza(as)
26.10.2010 Martyrdom of Fathi Shaqaqi
28.10.2010 Kfar Qasim Massacre
04.11.2010 Day of Struggle Against Imperialism
11.11.2010 Martyrs Day
13.11.2010 Martyrdom of Imam Muhammed Baqir(as)
16.11.2010 Eid ul-Adha
20.11.2010 Martyrdom of Ezzedeen Al-Qassam
21.11.2010 Birth of Imam Ali Naki(as)
24.11.2010 Eid al-Ghadeer
01.12.2010 Eid al-Mubahala
07.12.2010 Hijri New Year
09.12.2010 Hamas Foundation Anniversary
15.12.2010 Tasua Day
16.12.2010 Ashura Day