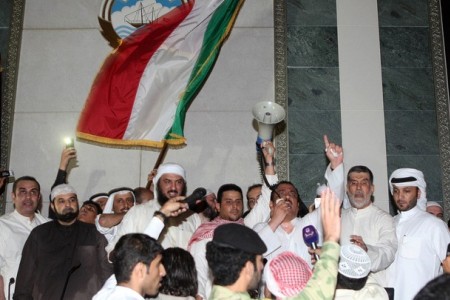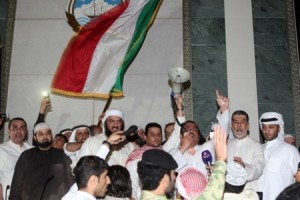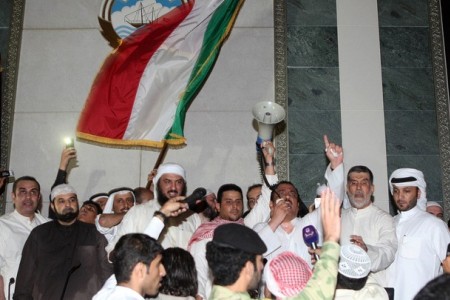 Thousands of Kuwaiti protesters have stormed parliament, calling for the resignation of the prime minister, whom they accuse of corruption.
Late on Wednesday, the demonstrators in the country's capital, Kuwait City, broke open parliament's gates and entered the main chamber, AFP reported.
The protesters were demanding that Prime Minister Nasser Mohammad al-Ahmad Al-Sabah, a nephew of the emir, step down, and parliament be dissolved.
The crowds chanted "the people want to bring down the head (of government)."
Opposition lawmaker Mussallam al-Barrak, who led the protest rally, said, "Now, we have entered the house of the people."
The protesters, who first held a demonstration outside parliament, shouting "the people want to remove the prime minister," started to march to the nearby prime minister's residence when police attacked them.
Police used batons to stop protesters from marching towards the residence of the premier.
Witnesses said at least five people were injured during clashes between protesters and security forces.
After facing police brutality, the angry demonstrators returned to parliament to continue their protests there.
The protesters said they would continue the protest, by camping outside parliament, until the prime minister steps down.
On Tuesday, Kuwaiti lawmakers filed a request to question Prime Minister Sheikh Nasser in the parliament over allegations of corruption and money laundering.
The request was filed by Mussallam al-Barrak, Faisal al-Muslim and Abdulrahman al-Anjari, representing an opposition bloc comprising 20 MPs in the 50-member house.
The opposition request alleges that Sheikh Nasser failed to take sufficient action to deal with a graft scandal involving 16 lawmakers, who received $350 million in bribes to sell their votes on crucial issues.
The opposition representatives also accuse the prime minister of ordering the transfer of millions of dollars from public funds into his personal accounts abroad.
Sheikh Nasser has denied any wrongdoings.
Kuwait's key affairs are run by the ruling Al-Sabah family, but the country has one of the region's most politically active parliaments.
The 71-year-old prime minister has come under withering criticism by the opposition since he took power in February 2006.