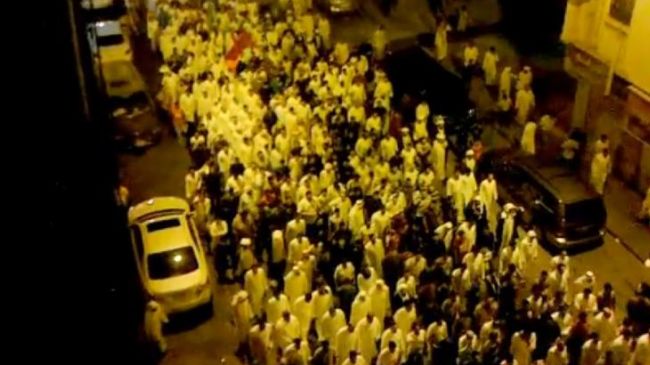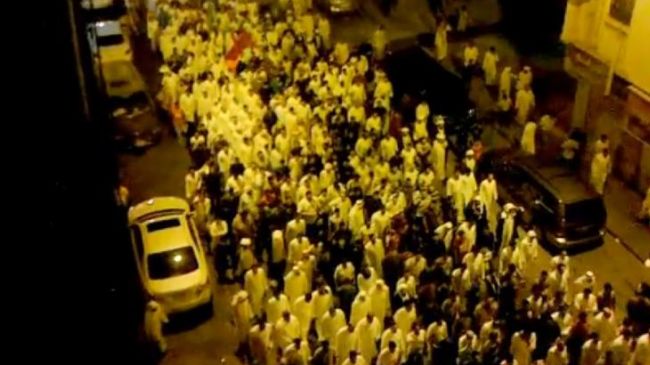 Saudi youths have staged a rally in the Kingdom's eastern city of Khobar to demand the immediate release of political prisoners and express solidarity with Bahraini people.
The demonstrators called for the release of prisoners held in jails in the cities of Qassim, Jeddah, and the capital Riyadh.
Meanwhile, tens of Saudi women and children staged a protest gathering in the eastern city of Qatif to express solidarity with Bahraini protesters and condemn the Manama regime' siege of al-Akar town, south of the capital.
Reports say a group of Saudi youths blocked off streets in central Qatif and set fire to tires in a bid to keep security forces away from the protesters. Explosions were also heard near police stations and security checkpoints in the city.
Al-Akar has been under siege since Thursday after a policeman was killed in a roadside bombing. Activists say regime forces have denied the town medical aid and food supplies since then.
Ten opposition groups and NGOs have reportedly sent a message to United Nations chief Ban Ki-moon to urge him to intervene and "lift the siege on al-Akar."
Since February 2011, protesters have held demonstrations on an almost regular basis in the Kingdom's east, mainly in Qatif and Awamiyah, calling for the release of all political prisoners, freedom of expression and assembly, and an end to widespread discrimination.
However, the demonstrations have turned into protests against the repressive Al Saud regime, especially since November 2011, when Saudi security forces killed five protesters and injured many others in the oil-rich region.
According to Human Rights Watch, the Saudi regime "routinely represses expression critical of the government."