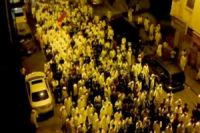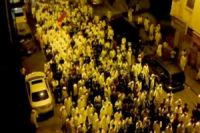 Saudis have staged an anti-regime protest rally in the central province of Qassim to demand the release of political prisoners being held without charge.
The protest was held in Buraydah, the capital city of Qassim Province, on Saturday, despite a ban on public gatherings.
The demonstrators also protested against the recent abductions of two female students by security forces near Abha University in Asir Province.
They blamed the Interior Ministry for the abductions and stressed that women should be regarded as the red line.
Saudis have staged several anti-Al Saud protests in Qassim, north of the capital, in the past few months.
In September, hundreds of Saudis, including women and children, gathered outside Tafiya prison near Qassim to demand the release of their relatives, who are being held without charges and trial.
Activists said police restricted the protesters to a cordoned-off area and kept them there without food or water for almost 24 hours. Dozens of protesters were also arrested.
Saudi activists say there are more than 30,000 political prisoners, mostly prisoners of conscience, in jails across the Kingdom.