Palestine
Islamic Bloc organizes mass rally in Gaza in support of Al-Aqsa Mosque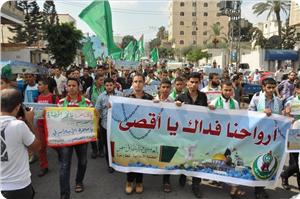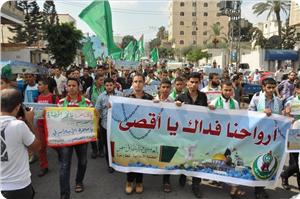 The Islamic Bloc organized on Tuesday afternoon in Gaza a student mass rally in support of Al-Aqsa Mosque.
The march was launched from Gaza universities with the participation of hundreds of students from universities, colleges and some schools in Gaza and headed for the Palestinian Legislative Council.
Participants in the march raised slogans and banners condemning the crimes of the occupation and the attacks on Islamic holy sites, especially Al-Aqsa Mosque, and demanding the whole world to immediately intervene to stop the Israeli assault and the desecration of the Islamic holy sites.
Islamic bloc during a press statement delivered at the rally called on the Arab and Islamic nations to support the Palestinians, pointing that the Arab countries' internal issues must not distance them from their central issue of Jerusalem.
It called the owners of capital from the Arab states and free world to support the steadfastness of the Jerusalemites in confronting the ongoing campaign to expel them through imposing taxes on them.
The Bloc also called on the Jordanian government particularly to prosecute the Israelis, and asked the Palestinian Authority to stop the negotiations which served only the occupation.
It urged the Jerusalemites to intensify their presence in the Aqsa, in order to defend it and prevent the occupation from desecrating it.