Iran
Islamic Iran and regional states can ensure PG security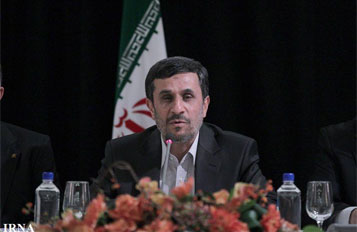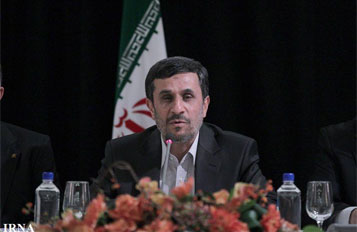 IRI President said in a press conference on 4th day of his working visit of New York, "If US, Britain and Nato would depart Persian Gulf and Oman Sea, Iran and other regional countries would be able to ensure security of both energy and the region."
President Ahmadinejad added in his interview with the world media representatives, "On pretext of ensuring the security of energy and the region some countries are now present in the Persian Gulf and the Oman Sea region. We hereby announce that if Nato and the United States would get out of the region the regional countries would ensure the security of the region."
The AFP reporter asked, "If Israel and the Palestinians would reach agreement on the establishment of an independent Palestinian government, would Iran recognize the legitimacy of such a decision?"
President Ahmadinejad said, "The Zionist regime's issue is a subject and the legitimacy of the Palestinians' demand for being recognized as an independent country is a different issue. We have always supported the Palestinian nation, and we support them today, too."
The New York Times reporter asked the reason why Iran has constructed its nuclear facilities underground. The president replied, "Every country constructs its nuclear facilities in secure places for security reasons."
He reiterated, "Every country has the right to have enrichment facilities, and the right to choose the place for its factory."
When an Egyptian reporter asked Ahmadinejad about more serious efforts made by Tehran and Cairo for elevation of relations in this post-Mubarak era, President Ahmadinejad confirmed the existence of connections between the two countries' officials.
He said that the relations between the Iranian and the Egyptian nations are both historic and deep-rooted, adding, "We believe the political relations should be a reflection of the peoples' ties."
Ahmadinejad said, "Previously, the obstacle in the way and the source for pressure used to be the United States. Now the head of the government is gone, but there has still been no election, nor a government based on the people's votes. We are waiting for the establishment of a government based on the Egyptian people's votes, after which we would continue our efforts."
The Itar-Tass reporter said that his country's foreign minister has announced that Russia is commissioned to construct another nuclear reactor in Iran, asking President Ahmadinejad's idea about the perspective of Tehran-Moscow cooperation.
Ahmadinejad said, "We have in our planning predicted the production of 20 thousand megawatts of nuclear electricity. The Russian companies would produce 1,000 megawatts, and there remain 19,000 more megawatts to be produced."
He added, "Negotiations are underway so that the Russian firms would provide another portion of that amount. This is of course a general proposal. Our relations with Russia are based on neighborhood. The neighbors must be friends and the two sides are trying to plan for strategic cooperation."
The Corriere della Sera reporter asked President Ahmadinejad about the United Nations' role in solving the Middle East crises. The Iranian president replied, "The UN Security Council has not performed its duties properly, which is due to the structural problems in its apparatus."
He emphasized, "The Security Council is at the disposal of the United States and a few European countries. We have no hope that the UNSC would make a move in defense of the nations' rights either. That is because it is incapable of defending."
The president meanwhile said, "We have always announced that freedom, justice, and freedom to choose are the nations' rights, and supported their rights in these regards. We believe these rights cannot be secured relying on Nato bombs and missiles, or on the interference of the aliens."