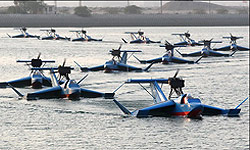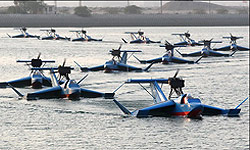 Iran plans to equip the Army's Navy with new types of combat vessels and submarines as part of its broader plan for renovating Navy units, a senior Iranian Navy commander announced on Saturday.
"New and valuable units of combat and flying vessels are joining the Navy," Lieutenant Commander of the Iranian Navy for Coordination General Kamran Farhang-Javid told FNA.
He pointed to the country's capability to manufacture different types of submarines and vessels, and stated, "New submarines are under construction in the defense ministry, which will soon be supplied to the Navy, where they will be equipped with the Navy's strategic equipments."
In September 2010, – The Iranian Defense Ministry delivered three squadrons of upgraded, radar-evading flying boats named 'Bavar-2' (Belif-2) to the Islamic Revolution Guards Corps (IRGC).
The development came after Iran in 2009 said it had successfully tested the domestically-made craft. A flying boat is a fixed-winged seaplane with a hull that allows it to land on water.
Last week, Lieutenant Commander of the Iranian Navy Rear Admiral Gholam-Reza Khadem Biqam stated that the country would continue to boost its naval capabilities by equipping the Navy with new military and missile systems.
"The Navy is in a good status in terms of training and equipments, and the Navy is equipped with new weapons and systems every year," Lieutenant Commander of the Iranian Navy Rear Admiral Gholam-Reza Khadem Biqam said on Tuesday.
He further mentioned that increasing the range of the Navy missiles, including its coast-to-sea and vessel-launched missiles, is among the major plans being implemented on a routine basis.
Last August Iran launched four light and advanced submarines. The Ghadir-class submarines, made by the Defense Ministry's Marine Industries, officially joined Iran's naval fleet in an official ceremony attended by Iranian Defense Minister Brigadier General Ahmad Vahidi and Commander of the Army's Navy Rear Admiral Habibollah Sayyari.
Iran announced in June 2009 that a home-made submarine, named Ghadir 948, had joined the naval brigade of the first naval zone.
In November 2009, Iran announced that its first domestically built Ghadir class submarine launched operation.
The Iranian military said that the submarine can easily evade detection as it is equipped with sonar-evading technology and can fire missiles and torpedoes simultaneously.