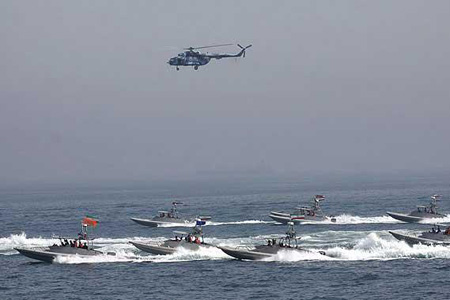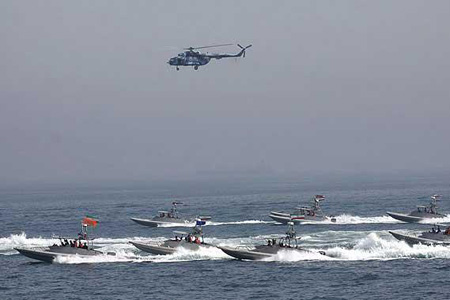 An Iranian Navy commander says the country will test-fire state-of-the-art domestically-manufactured military hardware during the ongoing massive naval drills.
Iran's Navy launched a massive 10-day naval exercise codenamed "Velayat 90" on Saturday which covers an area stretching from the east of the Strait of Hormuz in the Persian Gulf to the Gulf of Aden.
Iranian Navy Deputy Commander Rear Admiral Seyyed Mahmoud Mousavi said on Monday that the maneuver is aimed at promoting the deterrence power of Iran's Navy and testing modern and new military hardware that were handed over to the naval forces.
He added the drills would promote defense prowess and the capabilities of naval forces in international waters to assert the inalienable rights of the Islamic Republic in the sensitive and strategic regions of the Sea of Oman and the Indian Ocean.
He said Iran's Navy intends to convey the message of peace and friendship to regional states.

He, however, pointed out that Iran's naval capabilities should cause concern and weaken the enemy and all those who seek to misuse the strategic regions, he pointed out.
Mousavi added that a SRN6 Hovercraft began its mission on Monday after passing 660 kilometers.
Different classes of submarines, including Tareq and Ghadir, the newest ground-to-sea missile systems and torpedoes will be employed in the maneuvers.