Iran
Middle East
Islamic Iran's IRGC holds massive drone drills in Persian Gulf region
Iran's Islamic Revolution Guards Corps (IRGC) holds offensive-combat drone exercises in the Persian Gulf region, involving dozens of RQ-170 stealth unmanned aerial vehicles (UAVs) that Tehran has manufactured based on a model of a US Sentinel drone it captured unharmed in 2011.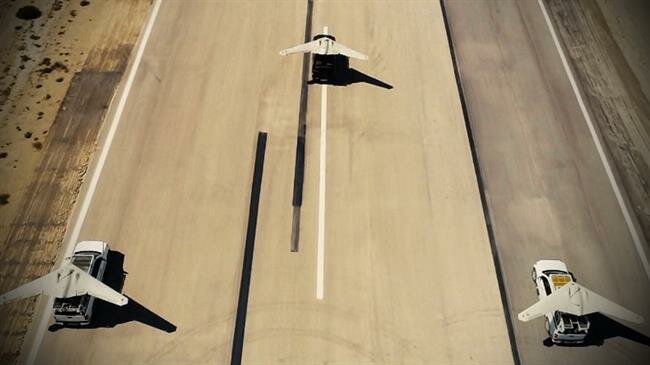 The massive drills, dubbed 'Towards al-Quds 1,' were staged by the IRGC's Aerospace Division in the general range of the Persian Gulf, with senior military officials in attendance, Sepahnews reported on Thursday.
Different types of "offensive and combat" drones, including 10 Iran-built RQ-170s, took part in the maneuvers.
It is the first time that the Armed Forces test the performance of such a high number of offensive drones during a combat-offensive operation, which saw the aircraft fly simultaneously at a distance of over 1,000 kilometers from the hostile targets before approaching and striking them at a specific time.
"Sanctions bore fruit," Brigadier General Hossein Salami, the IRGC's second-in-command said ironically while commenting on the military exercises.
"Despite the empty and satanic dreams of the US and other ill-wishers of the Iranian nation, we witnessed tens of modern and advanced domestic RQ-170s and other types of combat drones in flight during a major drill and unique offensive operation," he added.
The IRGC's Aerospace Division, he added, is proud of being the pioneer in the area of producing modern and advanced drones at home.
Salami also noted that all the drones successfully destroyed the enemy targets during the maneuver.
Brigadier General Amir Ali Hajizadeh, the commander of the IRGC's Aerospace Division, said that the force had reached self-sufficiency in designing, producing and operating drones.
Under the supervision of Leader of the Islamic Revolution Ayatollah Seyyed Ali Khamenei, the IRGC is today in possession of the biggest fleet of offensive bomber drones in the region.
The UAVs flew from different positions towards the designated targets on Faror Island of Iran's southern Hormozgan Province and destroyed them, he added.
In December 2011, Iran famously grounded a US RQ-170 Sentinel using electronic warfare techniques, as the stealth aircraft was flying over the Iranian city of Kashmar near the Afghan border.
In just a few years, Iran unveiled its own RQ-170 drone manufactured by the reverse-engineering of captured Lockheed Martin's Sentinel aircraft.
Iran's Islamic Revolution Guards Corps (IRGC) has acquired a drone footage that shows the US military destroying one of its own UAVs in the region.
Last November, Hajizadeh said Iran currently possesses the biggest collection of captured or downed American and Israeli drones, including the US' MQ1, MQ9, Shadow, ScanEagle, and RQ-170 as well as the Israeli regime's Hermes.
The reverse-engineered version of the RQ-170 drone was used to target Daesh terrorists' positions in Syria and Iraq. Iran's UAV program has also played a significant role in monitoring US warships in the Persian Gulf.