Palestine
Islamic Jihad, Hamas warn of PA continued political arrests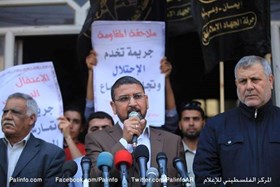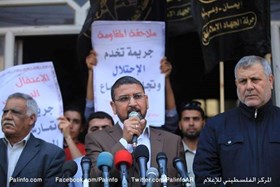 Hamas and Islamic Jihad movements warned during a protest vigil organized in Gaza Strip on Tuesday morning of the PA political arrest campaigns in occupied West Bank, calling for reinforcing Palestinian national unity.
Spokesman for Hamas movement Sami Abu Zuhri stated that PA security forces' continued political arrests against members and supporters of Hamas and Jihad movement mainly target resistance project.
"Security coordination between PA and Israeli forces aims at liquidating resistance project in West Bank and Gaza Strip," he said.
"Political arrests against university students and ex-prisoners in West Bank cannot be justified," Abu Zuhri added, pointing to the recent arrest campaign targeting Birzeit university's students and Jihad movement's members in West Bank.
He called for the immediate release of all political detainees from PA jails and detention centers.
Abu Zuhri praised the political detainee Islam Hamid's strong determination as he continues his hunger strike for 40 days in protest against his continued detention in PA jails.
Hamas's spokesperson called on PA chairman Mahmoud Abbas and Prime Minister Rami Hamdallah to bear their national responsibilities and to release prisoners of conscience.
Political differences could be solved through dialogue and communication, not through arrests and repression, he said.
For his part, the senior leader in Jihad movement Khaled Batsh denounced the PA escalated prosecution of ex-detainees and members of his group in West Bank.
He stressed the urgent need to unite all efforts to release Palestinian prisoners from Israeli jails, and not to arrest their family members.