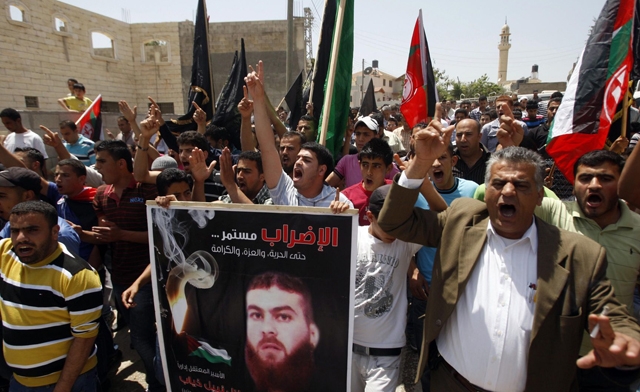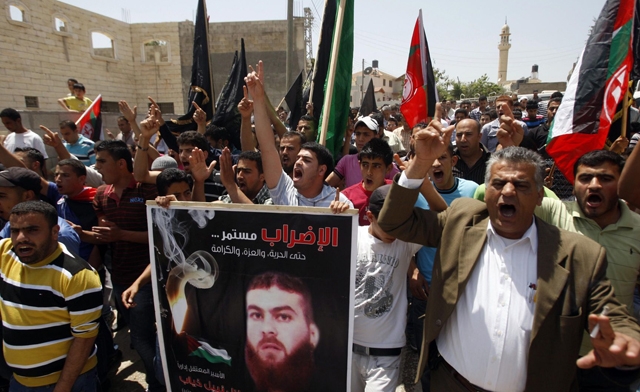 Dozens of Palestinians held a rally in al-Khalil ('Hebron') on Friday to show solidarity with Palestinians currently on hunger strike, Ma'an's reporter said.
Protestors marched from Hussein Ibn Ali Mosque to Ibn Rushd Square waving Islamic Jihad flags and posters demanding the release of Palestinian prisoners.
"Today the city of al-Khalil is uprising to support hunger striking prisoners although none of the current hunger strikers are from al-Khalil," former hunger striker Khader Adnan said.
"The protestors treat hunger strikers Yousef Yassin, Tarek Qaadan, Jafar Azzidine, Samir Issawi and Ayman Sharawna as if they were all from Hebron," he added.
Badran Jabor, a leader with the Popular Front for the Liberation of Palestine, said the hunger strikers "need all the support from the Palestinian people as they fight against an arrogant Zionist occupation."
Representatives of other factions joined the rally, but Hamas members were not present.
Jafar Azzidine, Tarek Qaadan and Yousef Yassin have been on hunger strike for 38 days. They were arrested on Nov. 22 and are being held in administrative detention, without charge or trial.
Issawi, from east of al-Quds ('Jerusalem'), has been on hunger strike for 157 days. On Wednesday, an Israeli military court postponed a hearing for his case for one month.