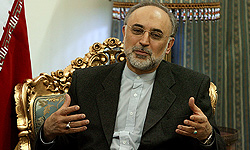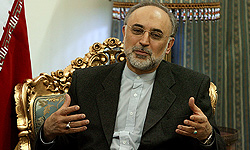 Iranian Foreign Minister Ali Akbar Salehi says the development of relations with neighboring states is among the top priorities of Iran's foreign policy.
"Developing and consolidating economic, trade, cultural and political relations with neighbors is a top priority of the Islamic Republic of Iran's foreign policy," IRNA quoted Salehi as saying in the northwestern Iranian city of Orumiyeh on Friday.
"Neighbors play a major role in Iran's economic and trade transactions," the top Iranian official added.
Regarding the trilateral meeting between Iran, Turkey and Azerbaijan, Salehi said one of the main topics to be discussed in the meeting is an increase in the volume of regional transactions.
Iranian, Turkish and Azeri foreign ministers will take part in a trilateral meeting in the northwestern city of Orumiyeh in Iran's West Azarbaijan province on Saturday.
Iranian, Turkish and Azeri presidents agreed on holding the meeting last year.
The countries' three foreign ministers held a preliminary meeting on the sidelines of the Economic Cooperation Organization (ECO) meeting in Istanbul, Turkey, four months ago.
The meeting is the first trilateral gathering between Iran, Turkey and Azerbaijan to discuss economic and trade cooperation among the three states.
Earlier in February, Iranian President Mahmoud Ahmadinejad said in a joint press conference with his Turkish counterpart Abdullah Gul that Iran was determined to increase the value of annual trade ties with Turkey to 30 billion dollars.
He said that the value of Iran's trade ties with Turkey surpassed 10 billion dollars last year and noted that the two countries have the capabilities to upgrade their trade to $30 billion.
The Islamic Republic also seeks to expand economic ties with Azerbaijan.
Salehi said in March that the trade volume between the two countries stood at $500 million in the previous Iranian calendar year and expressed hope that existing capacities would help increase this volume.