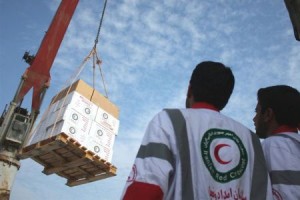 Head of Iran's Red Crescent Society Abolhassan Faqih says the Islamic Republic is prepared to send further humanitarian supplies to the besieged Gaza Strip.
In a letter to the Secretary-General of the Organization of Islamic Cooperation (OIC) Ekmeleddin Ihsanoglu, Faqih urged the Islamic body to take necessary measures to facilitate the passage of international aid to the impoverished coastal enclave.
He condemned the nearly four-year Israeli blockade of Gaza, which has resulted in the shortage of food and medicine.
Earlier, Israel prevented an Iranian aid ship from reaching the besieged Palestinian territory.
Faqih also praised the new Egyptian government over the reopening of the Rafah border crossing after nearly four years.
Enforcing the Israeli blockade on the Gaza Strip, the regime of the ousted, US-backed ruler, Hosni Mubarak, had refused to open the Rafah crossing since June 2007 despite its full sovereignty over the area.
The Israeli regime laid an economic siege on the Gaza Strip in June 2007 after the democratically-elected Hamas lawmakers took over the administration of the enclave.
The blockade has had a disastrous impact on the humanitarian and economic situation in the impoverished territory.
Some 1.5 million people are being denied their basic rights, including the freedom of movement and their rights to appropriate living conditions, work, health and education.
Following Israel's assault on the Gaza Freedom Flotilla in international waters on May 31, 2010, that killed nine civilians, Tel Aviv slightly eased the land blockade of Gaza, allowing in more consumer goods.
However, the naval siege of the Gaza Strip remains in place, exports are banned, and imports of raw materials and construction materials are restricted.