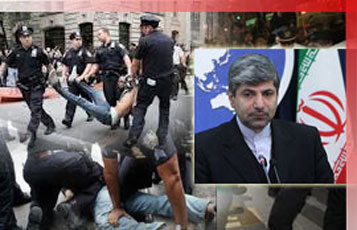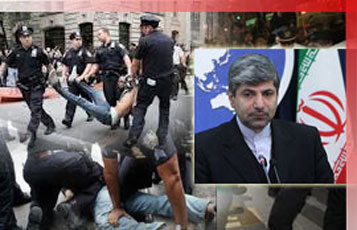 "The peaceful and spontaneous demonstrations of the American people in the past few weeks has been in protest at the unfair economic policies and the infiltration of some major monetary and financial agencies in the US political and decision-making structure," a Foreign Ministry statement quoted Ramin Mehmanparast as saying on Friday.
He added that Iran is concerned about the intensified crackdown on the peaceful popular movement in the United States at a time when turnout in demonstrations is on the rise.
"The Wall Street crisis, which is in a way, the continuation of the movement created in the world in line with the awakening of nations, indicates the people's deep concerns over the economic regulations and basics dominating US capitalism," the spokesman noted.
Iran believes that the US administration has to meet the people's demands concerning social equality, concentration on resolving the country's domestic problems, withdrawal of US military forces from other countries and spending the war budget on improving the American quality of life as the only way out of the ongoing crisis, Mehmanparast stated.
IRI Foreign Ministry official further called on US police to exercise restraint in dealing with popular protests.
"The crackdown on popular protests in different US cities by the country's police shows that US statesmen cannot tolerate peaceful protests," he added, urging US officials not to confront protesters but rather join them.