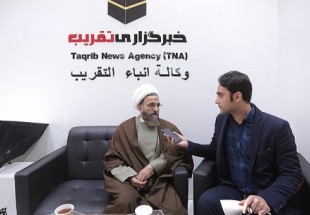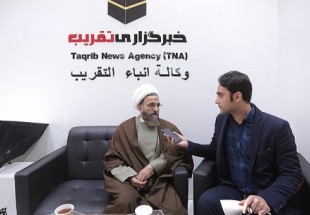 In an exclusive interview with Taqrib News Agency (TNA) on the side line of the 23rd edition of the International Press and News Agencies exhibition, the speaker of Iran's seminaries, Hojjatol Islam Val Moslemin Abbas Rafatie placed stress on the elevated role of Qom seminary in promoting unity in the World of Islam noting, "Qom Religious Seminary is more of a rapprochement center comparing other seminaries across the country."
"During their life, the late Ayatollah Boroujerdi had correspondence with the elders of the Al-Azhar School of Religious Approximation, and afterwards, the late Imam Khomeini (RA), while abiding by the principles of Shiism, tried to promote unity between Shiite and Sunni sects after the revolution," underscored the religious thinker.
"Now the Qom Seminary, based on the guidance and views of the Supreme Leader and jurisprudents, plays a leading role in the realm of unity and try to promote solidarity and proximity of the Islamic Ummah, "Hojjatol Islam Val Moslemin Rafatie mentioned.
"Even in our jurisprudential lessons and in our fundamental courses, the views of Sunni scholars are proposed and discussed. The seminary feels this duty to guide all Muslim Ummah and study Sunni viewpoints," pointed out the religious thinker.
"Islamic sects today, as a common cause, must stand against the faked sects made by the UK, such as Wahhabism and Salafism, because they are seeking divisions in the Ummah of Islam," pointed out the religious thinker stressing "These extremist and faked groups excommunicate any group with view running counter to theirs, while Islamic religions, and especially the Shiite, do not accept such views rejecting them."