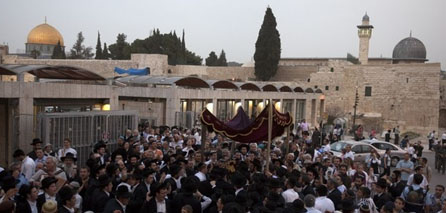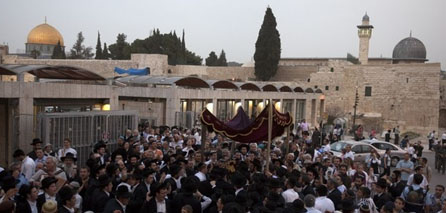 Palestinian minister of religious affairs Dr. Taleb Abu Shaar called on all Arab and Islamic organizations, especially the Arab League and the organization of the Islamic conference, to move and take active and serious decision to protect the holy Aqsa Mosque and other holy shrines in Al-Quds against the Israeli ongoing attacks.
His statement was issued on the 41st anniversary of the arson attack on the Aqsa Mosque which marks Saturday August 21.
Despite repressive measures and severe restrictions imposed by the Israeli occupation authority on the vicinity of the Aqsa Mosque, 150,000 Palestinian worshipers managed, according to reports, to pray on the second Friday of Ramadan in the Mosque.
At the invitation of Palestinian religious figures, citizens of Al-Quds, the West Bank and the 1948 occupied lands always frequent the Aqsa Mosque to confront any Israeli malicious plans against it.
In a separate incident, Israeli policemen kidnapped a Palestinian young man called Mahmoud Abdellattif, a resident of the holy city of Al-Quds, immediately after he finished his night Ramadan prayers in the Aqsa Mosque on Friday.
He said he was physically assaulted by Israeli policemen in their headquarters in the city and stayed in their detention for more than four hours before releasing him.
Abdellattif, like other young men in Al-Quds, received earlier this year a military decision preventing him from entering the Aqsa Mosque, but this decision ended at the beginning of Ramadan, the thing which allowed him to perform his prayers inside the mosque without being arrested.