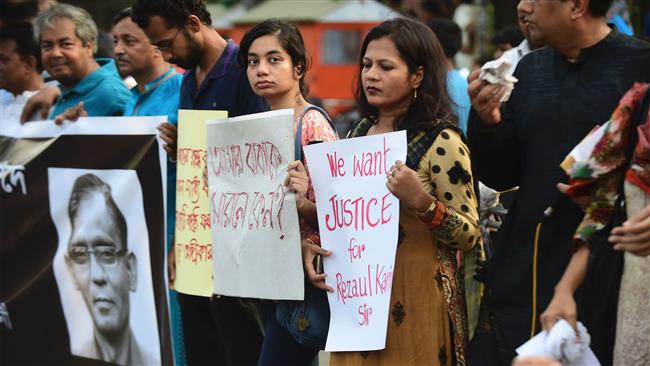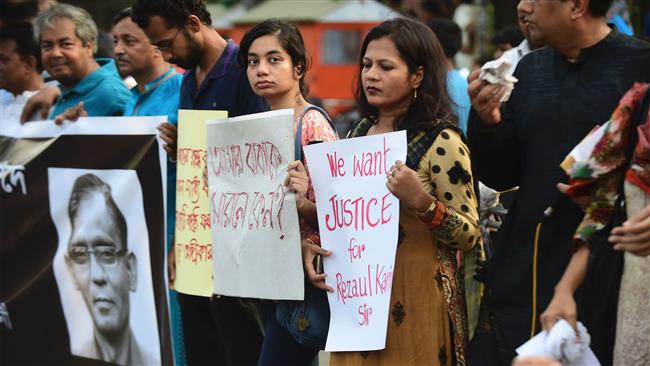 Bangladesh's home minister says Israel is spearheading an "international conspiracy" behind the serial killings of secular intellectuals and religious minorities in the Asian country.
Asaduzzaman Khan said on Monday that there was evidence of an "international conspiracy" against the Muslim-majority country, which backs the Palestinian cause and has no diplomatic ties with Tel Aviv.
"Bangladesh has become the target of an international conspiracy. And a foreign intelligence agency has joined the conspiracy," Khan said.
He touched upon a meeting between an opposition politician and an Israeli intelligence agent as evidence of the Israeli involvement in the murders.
"You must have noticed that an Israeli intelligence agent had a meeting with a politician, it does not need to be verified further, all [Bangladeshis] know about it."
Opposition MP Aslam Chowdhury was recently arrested and accused of sedition after his photographs with Israeli politician Mendi Safadi in India were published.
Chowdhury has denied the meeting and said he was on a business trip to India.
Reacting to Khan's remarks, Emmanuel Nahshon, a spokesman of the Israeli Ministry for Foreign Affairs, described the accusation as "utter drivel."
Serial murders
Khan's remarks came on the same day that police found the dead body of Ananda Gopal Ganguly, 70-year-old Hindu priest, near his home in a village of western Jhenidah District.
According to police, the victim had his head nearly severed from his body.
A day earlier, a senior police officer's wife, Mahmuda Aktar, had also been stabbed and shot dead in front of her six-year-old son in the city of Chittagong.
Also on Sunday, Sunil Gomes, a Christian grocer, was hacked to death in the village of Bonpara in an attack claimed by the Daesh terrorist group.
Police say more than 40 people have been killed since January 2015 in the spate of killings.
Most of the attacks against the secular bloggers, academics and members of religious minorities, including Shia Muslims, Hindus and Christians, were claimed by Daesh or al-Qaeda-linked groups.
However, Dhaka has disputed the claims and blamed opposition parties or local militant groups for the killings.
Israel is believed to be among the staunch supporters of the Takfiri outfits operating against the government in Syria over the past five years.