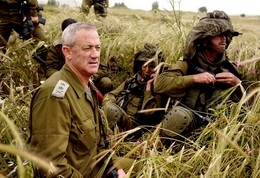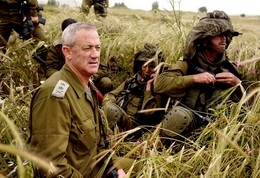 IOF Chief of Staff Benny Gantz said he holds the Lebanese Army directly responsible for Sunday's rocket attacks on the Zionist entity, Maariv reported Tuesday.
"Occasionally we get a kinetic reminder of our environment, which reminds us of the need to be alert and ready for any action necessary as such," Gantz stated.
5 rockets were fired at the occupied Palestinian territories Sunday morning. The rocket hit an open field near the city of Kiryat Shmona; no injuries were reported.
"The incident on the Lebanese border yesterday – a Katyusha that fell into an open field only by chance and was launched from an area controlled exclusively by the Lebanese army and the Lebanese government – does not indicate a new trend in the north, but did remind us that our security challenges have not disappeared," he stated.
"We must always be prepared, and our neighbors are required to be held responsible," Gantz continued. He explained that in the event that Lebanon does not take responsibility for the attack, that "in the end, we will have to act and it will not be simple."
The Israeli military said it responded with artillery fired toward the source of the launch.
The National News Agency said more than 20 shells hit the mountainous region around the southern border area of Rashaya.
Earlier this month, a Lebanese army sniper killed an Israeli occupation soldier, Shlomi Cohen, 31, as he drove along the volatile border.
Prosor
On Monday, Israel filed a formal complaint to the UN.
In the complaint, Israeli Ambassador to the UN Ron Prosor stated, "Hezbollah has placed thousands of missiles and rockets within civilian population in southern Lebanon, in blatant violation of international law, rockets and missiles that are used for firing at Israel. Hezbollah thus carries out a double war crime."
"I appeal to the Security Council and ask for its intervention in the wake of the escalation in terrorist attacks from Lebanon into Israel in recent weeks," Prosor added. "Israel has shown restraint in light of recent events, but reserves the right to protect its citizens and take any necessary measures for this purpose."