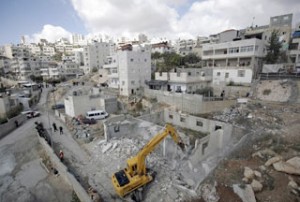 Israeli Prime Minister Benjamin Netanyahu has okayed the construction of 25 new housing units in the West Bank settlement of Keidar despite international calls to the contrary.
During a phone conversation with Defense Minister Ehud Barak on Monday, Netanyahu instructed Barak to stop preventing the construction of the new units in the West Bank, claiming the units do not fall under the cabinet's decision to halt settlement construction activities for 10 months.
Tel Aviv had earlier agreed to freeze all settlement activities, except in Jerusalem Al-Quds, for 10 months in a bid to re-launch stalled Israeli-Palestinian peace talks.
Israeli officials hope that the official declaration of a settlement freeze in the occupied West Bank would enable the renewal of negotiations with the Palestinian Authority, which has refused to engage in peace talks until Israel implements such a measure.
Tel Aviv is, moreover, currently under intense pressure from the international community to halt the construction of illegal settlements in the West Bank. Israeli settlements are widely considered the main obstacle in the way of Israeli-Palestinian peace talks.
Under the 2002 Roadmap for Peace plan brokered by the United States, the European Union, the United Nations, and Russia, Israel has to 'dismantle settlement outposts erected since 2001 and freeze all settlement activities'.
There are currently 121 Israeli settlements and approximately 102 Israeli outposts built on Palestinian land occupied by Israel in 1967. All of these settlements and outposts are illegal under international law and have been condemned by numerous United Nations Security Council resolutions.
These settlements and outposts are inhabited by a population of approximately 462,000 Israeli settlers. Some 191,000 Israelis are living in settlements around Jerusalem Al-Quds and an additional 271,400 are spread throughout the West Bank.
All such Jewish settlements are deemed illegal under international law because they have been erected on occupied lands that the Palestinians claim for a future state.