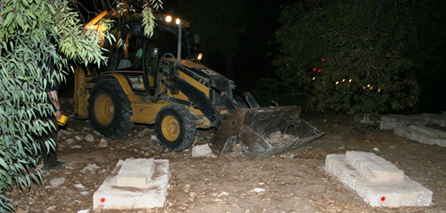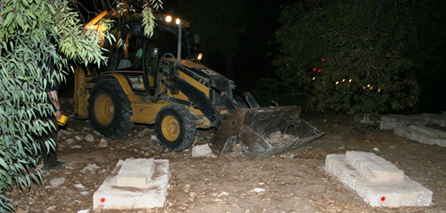 Israeli bulldozers began at dawn Tuesday, 10/8/2010, bulldozing and destruction hundreds of graves in the cemetery of "Ma'mano Allah" in Jerusalem. Thousands of the Israeli police assaulted the press crews and reporters to prevent them from filming the Israeli crime.
Al Aqsa Foundation for Heritage confirmed that the occupation authorities committed under cover of darkness a new crime against the cemetery by digging up and destroying hundreds of Muslim graves.
The Al-Aqsa Foundation said that the cemetery is the oldest and largest Muslim cemetery in Jerusalem where number of our messenger Mohammed followers – peace be upon him – martyrs and scholars.