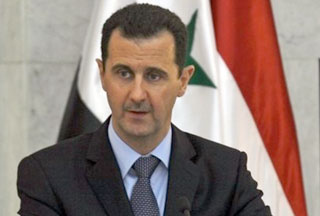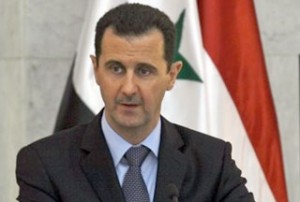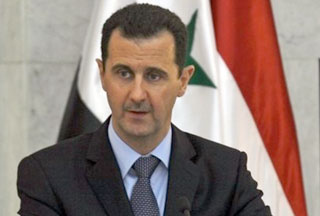 Syrian President Bashar Assad blames Israel for frozen peace talks, calling Israel a "fictitious" peace partner whose rhetoric cannot be understood without a dictionary.
"We discussed today the ways to bring the peace process out of the deadlock that it has reached … because of the absence of a serious Israeli partner who aims to achieve peace," Assad said at a joint press conference with visiting Turkish Prime Minister Recep Tayyip Erdogan.
"We are dealing with a fictitious partner that presents itself as a partner in the peace process, when in fact the opposite is the truth," the Syrian leader told reporters after talks with Erdogan in Damascus.
Assad said Israel's rhetoric vis-a-vis the peace process "cannot be understood without the use of a dictionary," adding that Israel's demand for negotiations without conditions meant that it wanted to bring down the peace process.
"When Israel says it wants negotiations without conditions it means it wants negotiations with no foundation. This is like having a building with no foundation, then it's very easy to be brought down and they want to bring down the peace process," he said.
Referring to the Golan Heights, occupied by Israel during the six-day war in 1967, Assad said Tel Aviv's stance that "peace will lead to the return of land" meant endless negotiations, stressing "the return of the land will bring peace, not the other way around."
The Syrian president also rejected Israeli claims that Turkey, which mediated indirect talks between Israel and Syria, was biased against Israel.
Peace talks between Israel and Syria reached a stalemate in 2000 over Damascus's demand for a full Israeli withdrawal from the Golan Heights.
Israeli Prime Minister Benjamin Netanyahu's administration has ruled out resuming Turkish-mediated talks with Syria, insisting that any new contacts must be direct.
Diplomatic ties between Turkey and Israel saw serious strains over Ankara's strong condemnation of Israel's three-week offensive against the Gaza Strip last December.
On Wednesday, Erdogan reiterated that Turkey remained committed to mediating peace talks.