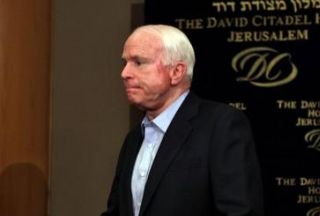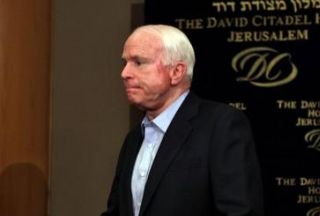 US Senator John McCain says Israel is not planning to launch a military strike on Iran to set back the Islamic Republic's nuclear program.
The Arizona Republican, who was in Israel on Wednesday, spoke to reporters after meeting with Israeli Defense Minister Ehud Barak and Israeli Army Chief of Staff Gabi Ashkenazi.
"I don't believe we are at the point of making that kind of decision, nor is the Israeli government, given the state that Iran is in now as far as the development of their nuclear weapons is concerned," The Washington Post quoted McCain as saying in response to a question on whether he would support an Israeli military strike on Iran's nuclear facilities.
McCain said it was impossible for him to say whether he would back such an operation because it "would be dictated by so many different circumstances."
Israel, which is the only player in the Middle East that possesses nuclear weapons, has repeatedly declared its determination to halt Iran's nuclear program, even through military means.
However, unlike Israel, Iran is a signatory to the Nuclear Non-Proliferation Treaty, has always abided by the treaty, and says it has no plan to produce nuclear weapons.