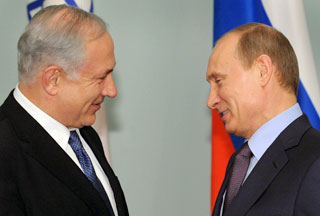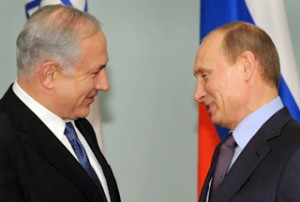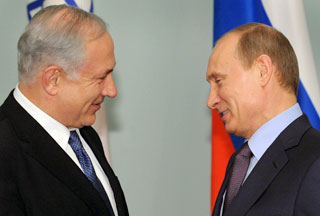 Israeli Prime Minister Benjamin Netanyahu says Tel Aviv is not planning a military offensive against Iran as part of its efforts to halt Tehran's nuclear program.
"We are not planning any wars," Netanyahu said in Moscow on Tuesday after meetings in which he urged Russian officials to approve tougher sanctions against Iran.
Speaking to reporters after meeting with Russian Prime Minister Vladimir Putin, Netanyahu claimed that the international community was getting closer to an agreement on imposing new sanctions on Iran.
Netanyahu said the international community has "all the resources necessary" to deal with what he called the Iranian threat and that during his two-day visit to Moscow he was encouraged by the convergence in the international community to put more pressure on Iran.
"Russia understands very well the problem posed by a nuclear Iran," AP quoted Netanyahu as saying after his two-hour meeting with Putin.
"The most important thing now is that there is a general interest… that Iran not become a nuclear power," he added.
Israel, which hypocritically accuses Iran of pursuing a military nuclear program, is the only player in the Middle East that possesses nuclear weapons.
Yet, unlike Israel, Iran is a signatory to the nuclear Non-Proliferation Treaty (NPT).
In addition, the International Atomic Energy Agency (IAEA) has conducted numerous inspections of Iran's nuclear facilities but has never found any evidence showing that Iran's civilian nuclear program has been diverted to nuclear weapons production.
But Israel possesses a nuclear arsenal of at least 250 warheads and has never allowed IAEA inspections of all its nuclear facilities.