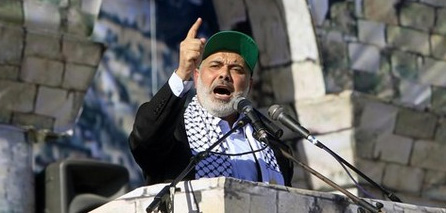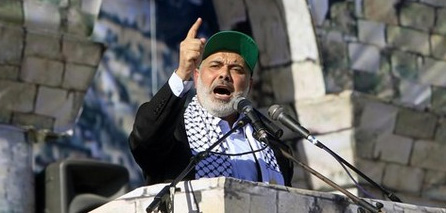 Palestinian premier Ismail Haneyya stated Tuesday that the escalating Israeli aggression against the Gaza Strip is already planned, calling for deepening ties with God in order to be able to defend and liberate the homeland.
"As we are commemorating today the 18th anniversary of Marj Al-Zuhoor deportation, the enemy's aircraft are carrying out a series of raids on the Gaza Strip, so we should fortify ourselves with faith and strong determination in order to be able to confront these difficult battles," Haneyya said in a ceremony held to honor deportees of Marj Al-Zuhoor.
"We are here today in Gaza to remember that suffering [of Marj Al-Zuhoor deportees] in order to draw a great lesson; that to reach lofty goals, there should be considerable sacrifices and willingness to give. Is there a goal superior to the liberation of the homeland and the reclamation of Jerusalem and the Aqsa Mosque?" the premier highlighted.
For his part, Hamas spokesman Fawzi Barhoum said in a press statement to the Palestinian information center (PIC) that the remarks made by the Israeli army's chief of staff Gabi Ashkenazi about targeting Hamas cadres in Gaza showed the real intentions to wage a new war on Gaza people and their resistance.
Spokesman Barhoum added that the Israeli occupation is planning a new round of aggression on Gaza in order to heat up the region and thus cover up its intransigent attitude towards all international resolutions calling for ending settlement and Judaization activities.
The spokesman held the Israeli government fully responsible for any serious escalation that might happen as a result of its military attacks, affirming that the absence of international justice, the eradication of the resistance in the West Bank and the lack of Arab support for Gaza and the Palestinian people mean that the Israeli occupation will kill more Palestinians.
He emphasized that the resistance is the result of aggression and not the cause, and therefore the Palestinians have the right to defend themselves, families and land against any Israeli assault on them.
In this regard, head of the Knesset committee on foreign affairs and security Shaul Mofaz threatened on Tuesday that Israel would wage an all-out war on Gaza if the Palestinian resistance factions continued to fire rockets on Israeli targets.
Mofaz made his remarks while deliberately ignoring that the Israeli army was the party that started to wage land and aerial attacks on Gaza prompting the resistance fighters to retaliate.