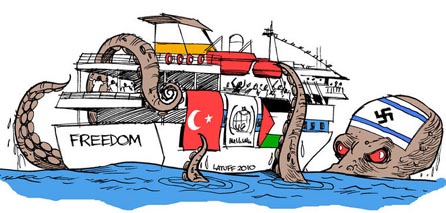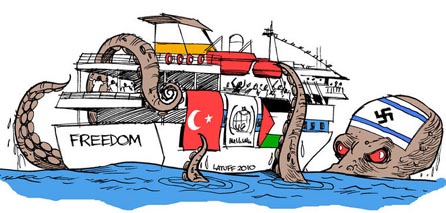 Israel is preparing to face four Gaza-bound aid flotillas from Lebanon, Libya, Qatar and Oman, all of them organized by Islamic factions, the Hebrew-language daily Maariv reported Sunday.
While the timing of the ships' arrivals is unknown, Israel is on high alert to prevent another deadly confrontation in international waters, the newspaper reported quoting unnamed Israeli sources.
Israeli forces killed nine passengers aboard a Turkish flotilla which attempted to break Israel's four-year siege of the coastal enclave on 31 May.
Maariv reports that while there is no information about the arrival of an Iranian ship, Israeli officials believe Iran will pursue the aid mission so its public can partake in the "awaited media gala." The ship will set sail from the Black Sea, picking up volunteers in Istanbul before heading to Gaza, according to the report.
While Israel's naval forces plan to use non-deadly means such as water hoses to stop the incoming boats, Maariv reported, aid ships originating from Lebanon or Syria would be dealt with as enemy ships.
A coalition of US organizations, meanwhile, is raising funds to send an aid boat.
In a statement on its website, the group said the boat would set sail in September or October as part of a flotilla of ships from Europe, Canada, India, South Africa, and parts of the Middle East.
Israel's raid on the Turkish ship sparked international condemnation. Israel's government refused Turkish demands for an apology and ignored calls for an international investigation into the incident, opting instead for an internal probe.
Two survivors of the raid on the Freedom Flotilla, author Iara Lee and retired colonel Ann Wright, have expressed their support for the US aid mission named after then-presidential candidate Barack Obama's 2006 bestseller The Audacity of Hope.