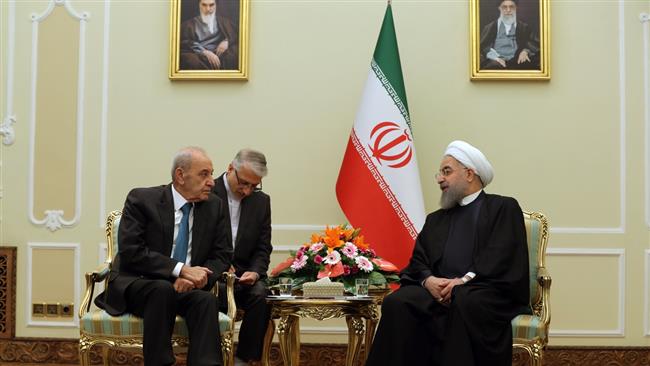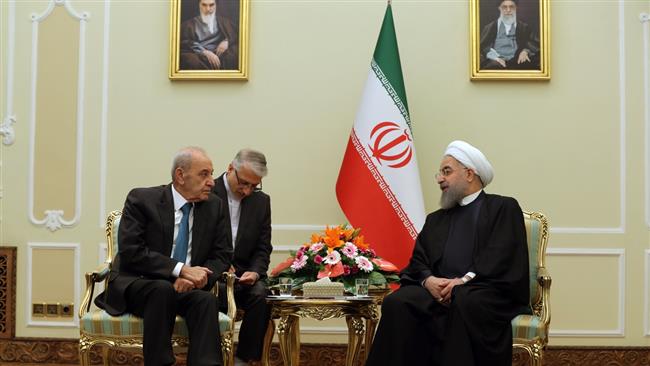 Iranian President Hassan Rouhani says the Israeli regime seeks to create division in Lebanon to advance its own interests but the Lebanese nation and government have managed to foil enemies' "divisive plots."
"Undoubtedly, Zionists benefit from creating division in Lebanon," Rouhani said in a meeting with Lebanese Parliament Speaker Nabih Berri in Tehran on Wednesday.
The meeting was held on the sidelines of the 13th Session of the Parliamentary Union of the Organization of Islamic Cooperation Conference in Tehran.
Rouhani lauded stability in Lebanon, saying the Israeli regime thought that it could keep Daesh terrorists in the region for a long time.
In recent months, certain regional governments have shown their true colors, the Iranian president said, urging further consultations and cooperation among nations in the region to resolve their problems.
"All regional nations need to do their utmost to help restoration of stability and security to the region, and there is no other option," he said.
Rouhani also expressed hope that regional nations would not allow foreign powers like the US and Israel to go ahead with their plans to sow discord and spread animosity.
The Iranian president further vowed to continue supporting Lebanon in the face of Israel's aggression.
"The Iranian nation and government have always stood by and will continue to stand by the Lebanese nation and government in the resistance against the Zionist regime's aggression," he said.
For his part, Berri praised Iran's support for Lebanon and the Hezbollah resistance movement in the face of Israeli acts of aggression.
Iran has played a positive role in settling regional crises, the Lebanese official said.
Berri also warned that the US government's stance on al-Quds could lead to a crisis in the region.
In a controversial policy shift, US President Donald Trump announced on December 6 that Washington was recognizing Jerusalem al-Quds as the "capital" of Israel and was preparing to relocate its embassy from Tel Aviv to the occupied city.
The announcement triggered global condemnations and protests.
Jerusalem al-Quds remains at the core of the Israeli–Palestinian conflict, with Palestinians hoping for the eastern part of the city to eventually become the capital of their independent state.
Unity key to solving regional woes: Larijani
Separately on Wednesday, the Lebanese parliament speaker met with his Iranian counterpart Ali Larijani.
Larijani echoed remarks by Leader of the Islamic Revolution Ayatollah Seyyed Ali Khamenei on the significance of unity in the Muslim world in the face of plots by hegemonic powers to foil their plots.
He said that Iran backed establishment of peace and stability in other countries and welcomed negotiations to find political solutions to problems.
Berri, for his part, underlined the need for consultations among parliaments of Muslim countries to resolve their problems.
He also emphasized the need for unity among Sunnis and Shias, expressing hope that Muslim countries could settle their differences through diplomacy.