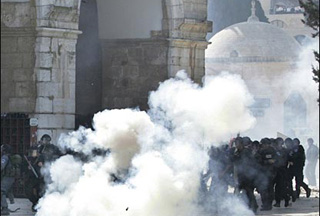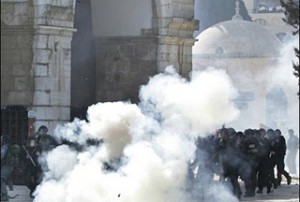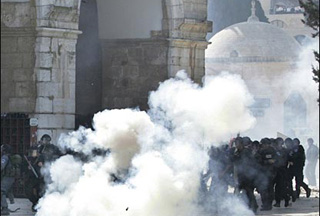 Israeli police have fired tear gas at Palestinians protesting the closure of Al-Aqsa holy compound (Temple Mount) in the occupied Jerusalem.
Israeli security forces beefed up security in the Old City Sunday and denied entry to the compound where the Al-Aqsa mosque and the Dome of the Rock shrine are located, said Adnan al-Husseini, the Palestinian-appointed governor of Jerusalem.
"The situation is very tense in the Old City," Husseini said.
An Israeli police spokesman, Micky Rosenfeld, also confirmed that the compound, known to Jews as the Temple Mount and to Muslims as Haram al-Sharif, had been "shut to visitors."
Some 150 Palestinians protested the closure of the site, hurling stones and bottles at riot police.
Palestinian medical officials said nine people were treated for minor injuries including tear gas inhalation. Israel said one policeman was hurt by a rock.
Israeli police claim that the decision to close the site was made following calls, spread on the Palestinian media on Saturday evening and throughout the night, to "come protect the Mount."
Many Jewish visitors are also expected to flock to Jerusalem during the holiday of Sukkot, particularly to the Old City and the Western Wall.
Last week, 30 people were injured in similar clashes near the Al-Aqsa mosque, as Palestinians warned of a possible new uprising.
Israel occupied East Jerusalem during a 1967 aggression and later annexed it. The status of the city is among the thorniest issues of the peace process with the Palestinians, underscoring the reality that any Palestinian state should include the city as its capital.