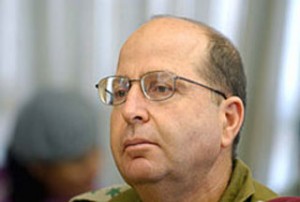 Israeli Strategic Affairs Minister Moshe Yaalon says Israel might use force to prevent Iran from developing "nuclear weapons", a claim Iran vehemently rejects.
"Iran's plan will probably be stopped by a regime change or, if there is no other choice, by recourse to force to deprive Iran of its nuclear arms production capabilities," Yaalon told a security conference in Herzliya.
"It is important to continue to make clear to the extremist regime in Iran that all options remain on the table and that ignoring the demands of the international community will probably end in bitter tears for Iran," AFP quoted Yaalon as saying on Wednesday.
Yaalon's reference to force was not new. Israel has consistently voiced its determination to stop Iran's nuclear program even through military options.
Israel which is believed to be the only possessor of nuclear arms in the Middle East accuses Iran of pursuing a military nuclear program.
Iran, a signatory to the nuclear Non-Proliferation Treaty has declared that its peaceful nuclear program is being pursued within international regulations .The UN nuclear watchdog has repeatedly announced that it had not found no evidence to support the allegations that Iran is seeking to develop nuclear arms.