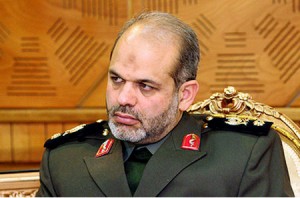 Iran says Israel is using threats to launch an attack on Iran's nuclear installations as a pretext to increase its military budget.
Iranian Defense Minister Ahmad Vahidi, who is in Damascus on an official visit, said Israeli officials are well aware that they do not possess the power to cause any major threat for Iran.
However, they, Vahidi said, are using threats as a means to appease "the Zionist society" and push for their military goals in the budget.
"They are both worried about carrying out a pre-emptive, aggressive first strike and terrified about enduring the repercussions and retaliations of their act," Vahidi added.
Iran, a signatory to the nuclear Non-Proliferation Treaty (NPT), says its nuclear program is aimed at the civilian applications of the technology and has called for the removal of all weapons of mass destruction across the globe.
Israel, which is the supposed owner of Middle East's sole nuclear arsenal, accuses the country of seeking atomic bombs. Under such a pretext, it has threatened Iran with a military option.
Vahidi said Iran's response to an aggression from Tel Aviv would be targeting the regime's production sites of "chemical, microbiological, dirty and banned nuclear weapons."