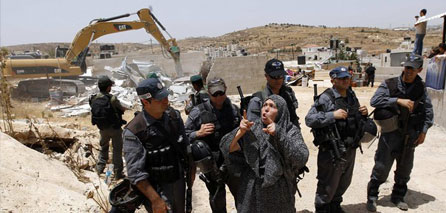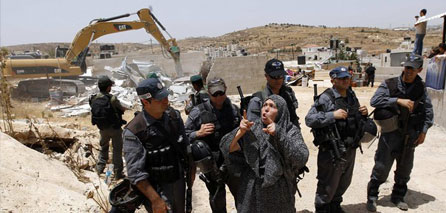 Israeli bulldozers destroyed four houses on Tuesday in occupied Jerusalem, triggering clashes with homeowners and locals.
The Makdesi Foundation for Community Development said in an official press release that crews from Israel's Jerusalem municipality, accompanied by extensive Israeli military demolished a home in the Beit Haneena district belonging to Palestinian citizen Rashed al-Rajabi after breaking down the house's entrance in order to evacuate him.
The foundation added that the Israeli forces had previously demolished a hundred square meter home under construction belonging to Palestinian Mahmoud Mohammed al-Issawi of the Issawi section of East Jerusalem. A third, one-story home under construction belonging to Palestinian woman Sabah Abu Ramila in Issawi.
Local sources said that Abu Ramila suffered various injuries during the raid on her house, which was inhabited by 16 people, most of whom were children, adding that soldiers demolished a room belonging to Khalil Dari in the same area.
They warned of confirmed information that the demolition campaign will affect the number of houses in Beit Hanina.
The local sources added that violent clashes broke out between the owners of the targeted houses and a large number of citizens with Israeli soldiers, who used force to remove locals from the site, and a number of people, including women, were hit, with increasing numbers of citizens who flooded the streets of the targeted area amid the heavy presence of Israeli military.
Hamas said in a press statement Tuesday, "The encroachment of the Zionist occupation in its West Bank settlement activity, particularly in Jerusalem, is a reflection of the policy of security coordination with Oslo Group authority, and an outcome of the policy of rushing toward futile negotiations, which remains as a cover for further settlement projects, which have doubled in intensity following the signing of the Oslo agreement."