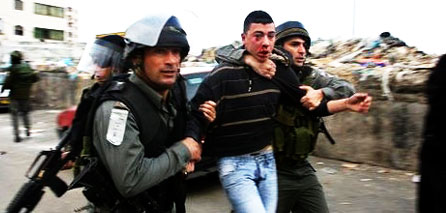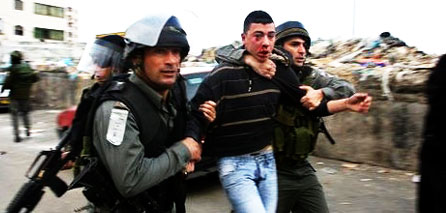 Palestinian local sources reported yesterday that the Zionist police injured more than two hundred Palestinian civilians were demonstrated against the Zionist home destruction in Silwan neighborhood.
The Zionist assault on the Palestinians took place in Silwan neighborhood east of Jerusalem. The Zionist "Border Guard" and "police officers" came to the site and began to attack the citizens.
The Zionist "Border Guard" forces opened fire directly and used the tear gas bombs and stuns grenades.
The Palestinian witnesses confirmed that the Zionist attack began when Zionist private security guards attempted to gain entry into Abu-Nab, and upon finding it locked and fired tear gas in through the windows.
Nasrin Alian, of the Association for Civil Rights, said dozens of Palestinians were hurt in the Zionist assault. "The settlers' security guards abuse the residents, because of MK Uri Ariel's threat that if Abu-Nab were not evacuated by July 4 they will clear it themselves," she said.
Alian added that the security guards had been taunting youths near "Beit Yehonatan" and the 'Honey House', causing them to rally and afterwards firing in every direction.
She said they had also fired tear gas into the house, forcing 40 residents out and causing a 5-year old girl and a pregnant woman to faint.