Palestine
Israeli Occupation Captures 4 Jailbreak Heroes following 5-Day Massive Manhunt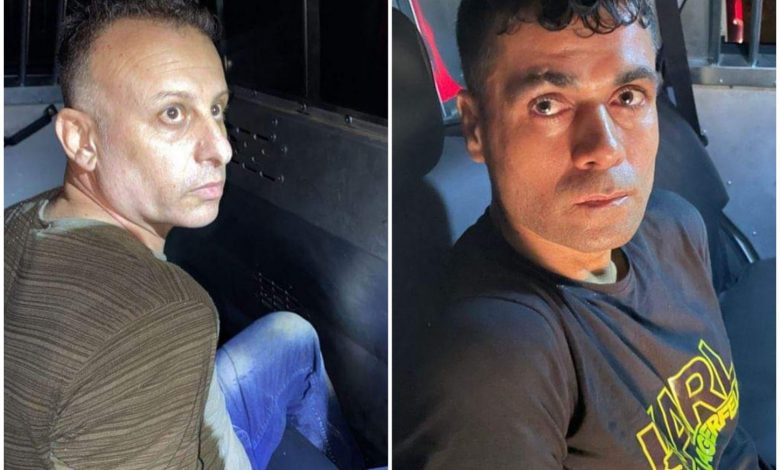 Israeli occupation captured four Palestinians who escaped high-security Gilboa prison earlier this week. The recapture of the four came five days after a massive manhunt which the Zionist entity deployed full weight of its security arsenal in.
Late Friday, Israeli occupation recaptured the first two of six Palestinian escapees Mahmoud Al-Arda and Yaaqoub Qaderi near the city of Nazareth.
Later in the early hours of Saturday, occupation police recaptured the other two of the six-member group which turned the life of the Zionists into a nightmare for several days.
The two Palestinian escapees were Zakaria Al-Zubeidi and Mohammad Al-Arda. were reportedly found at a truck garage in the Zionist entity's north. Israeli media reported that Zubeidi tried to resist arrest.
Video on social media showed Israeli officers putting two men into the back of separate police vehicles.
The remaining two escapees of the group, Monadel Al-Faiaat and Ayham Kamamji, were still at large by the occupation forces.
Earlier on Friday,Islamic Jihad Resistance movement warned Israeli occupation forces against harming the Palestinian prisoners. Five of the six escapees are Islamic Jihad members, while the sixth, Al-Zubeidi is a member of Al-Aqsa Martyrs Brigades.
Also on Friday, Palestinians across the occupied West Bank and occupied East Jerusalem took to the streets in solidarity with Palestinian prisoners and protested against their punishment.
Commenting on the recapture of the four escapees, a spokesman of Fatah Palestinian movement underlined the achievement secured by the jailbreak heroes.
"The recapture won't degrade the achievement of the escapees who penetrated a maximum-security arsenal. We are all proud of them," the spokesman was quoted as saying by Palestinian media on Saturday.
For his part, Hamas Spokesman Fawzi Barhoum stressed that the "recapture of the four jailbreak heroes was just a round in the open battle with the Israeli occupation."