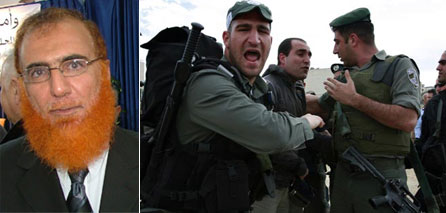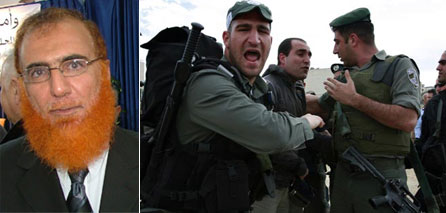 A group of Zionist policemen disguised in plain clothes kidnapped Jerusalemite MP Mohammed Abu Tir near his home in Sour Baher village, occupied Jerusalem, on Wednesday.
The security men ambushed the car of MP Ahmed Attoun and took away Abu Tir, who was in his company, to the Maskobeh detention center in occupied Jerusalem.
Khaled Abu Arafa, a former minister of Jerusalem affairs, said that the Zionist occupation authority (ZOA) was carrying out its threat to deport Abu Tir and other Jerusalemite MPs.
He said that the detention of Abu Tir was a clear indication that the reports about talks between the ZOA and the PA in Ramallah over suspending the deportation order were not correct or to say the least inaccurate.
A Zionist police source said that Abu Tir was arrested for "illegal residence in Jerusalem", but would not say what would be the next step in dealing with the MP.
Hamas deputies denounced the detention, blaming the continued "futile negotiations" with the ZOA for such a development.
They expressed confidence that the ZOA banishment policy would prove its failure in the end.