Palestine
Israeli-puppet PA forces arrest 4 of Hamas members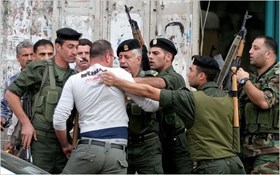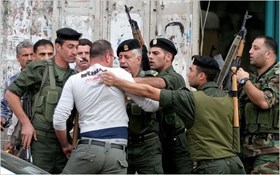 The Islamic resistance movement, Hamas, said in a press statement issued Friday that PA security forces continued its systematic arrest policy against its members in occupied West Bank.
The statement pointed out that four Hamas-affiliates were detained over the past week, while the journalist Mohamed Awad's detention has been extended for 15 days.
In al-Khalil, PA Preventive Security Services (PPS) detained a university student after being summoned for investigation.
The PSS also continued to arrest three other students affiliated to the Islamic bloc, Hamas' student wing.
An ex-prisoner was also arrested at hands of PA forces after brutally storming and searching his home in Dura town in the city.
In Ramallah, the Israeli Magistrate court extended the arrest of the journalist Mohamed Awad who was brought to court in very difficult situation due to the severe torture he was subjected to during the investigation.
Meanwhile, the political detainee Islam Hamed continued his hunger strike in PA jail for 56 consecutive days in protest against his detention in PA Junaid prison.
Two other students were also detained in Tulkarem and Qalqilia by PA forces.