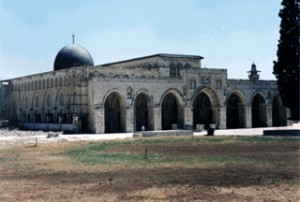 Iran's parliament speaker says new Israeli settlement building in Jerusalem al-Quds shows that Tel Aviv and its "godfather, Washington, are hatching a new plot."
"The expansion of Israeli settlements around the al-Aqsa Mosque, demolition of historic Islamic structures in [Jerusalem] al-Quds over the past month, and the silence of the heads of Arab and Islamic states have raised Israeli audacity to a new level," Majlis Speaker Ali Larijani said in an address to parliament on Sunday.
"Israel has grown so audacious that it attacks the infrastructure of the Gaza Strip," he added.
Larijani made the remarks two days after Israeli night-time air raids on Gaza left three Palestinian children injured and several buildings destroyed. A dairy, a media production studio, and a metal workshop were among the targeted buildings.
"All things inside the factory have been completely destroyed. I believe Israel considers this factory part of Gaza's economic infrastructure and sees it as a symbol of the steadfastness of the people here," said Mo'atasem Dalloul, the owner of the dairy where the children were injured.
Last month, during US Vice President Joseph Biden's trip to Israel, Tel Aviv announced that it would soon begin the construction of 1600 units in the Ramat Shlomo housing development in East Jerusalem al-Quds.
Later on, the Israeli website Ynet announced that another East Jerusalem al-Quds building project was also underway, this time 20 units in the Palestinian neighborhood of Sheikh Jarrah.
Following the announcements, the UN secretary general spoke out against the move and said that "all" Israeli settlement building in occupied East Jerusalem al-Quds is illegal.
"All settlement activity is illegal. But inserting settlers into Palestinian neighborhoods in Jerusalem al-Quds is particularly troubling," Ban Ki-moon told the UN Security Council in New York.
"This leads to tensions and undermines prospects for addressing the final status of Jerusalem [al-Quds]," he said.
In his remarks on Sunday, Larijani called on Arab and Muslim countries, the United Nations, and UNESCO to take measures to prevent the destruction of Islamic sites in Jerusalem al-Quds.
"It is surprising how certain Arab states, which profess to be the leading defenders of Islam and Arabism, seek comprise plans that require greater retreat, when Islamic sites and the oppressed Arab people of Palestine are insulted," he said.
"All these audacities are the result of these meaningless comprise plans."