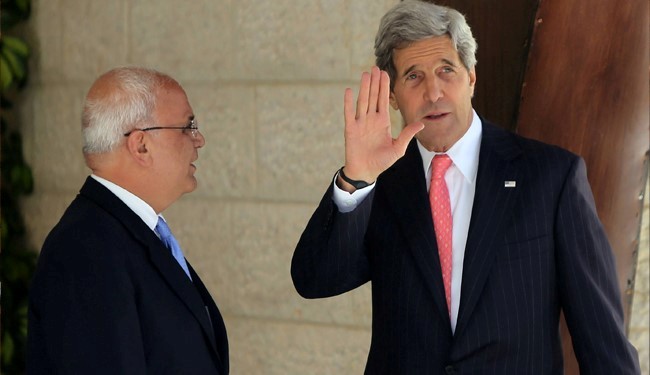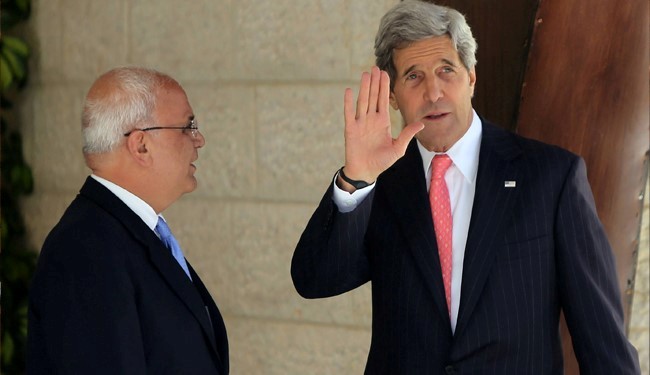 With a second round of Israeli-Palestinian talks slated to take place next week, chief Palestinian negotiator Saeb Erekat yesterday sent a furious letter to U.S. Secretary of State John Kerry demanding that he stop Israeli regime from moving forward on plans for new settlement construction.
Erekat warned that unless settlement expansion is stopped, he finds it hard to see how negotiations can "bring about progress towards a peace agreement."
The letter details several plans that the Zionist regime announced this week, including construction of 63 housing units in East al-Quds' Jabal Mukkaber neighborhood; construction of 878 units in various West Bank settlements, almost all of them outside the major settlement blocs; and the cabinet's decision to include additional settlements on Israel's list of national priority areas, which will entitle them to various benefits.
Saying that the settlements violate both the Geneva Convention and Israel's obligations under the Oslo Accords, Erekat termed these announcements evidence of "Israel's bad faith and lack of seriousness," as well as a direct slap in the face to Washington's mediation efforts.
He therefore urged Kerry to "take the necessary action to ensure that Israel does not advance any of its settlement plans, and abides by its legal obligations and commitments."
Hanan Ashrawi, a member of the PLO's executive committee, also urged Kerry yesterday to take "real action" against Israel, which she accused of "openly disrupting" his concession efforts.
In a press statement, she charged that Israeli regime was "deliberately destroying the two-state solution and killing any sort of hope," and warned that "in absence of a clear international response, our duty is to protect our land and our people with the rightful tools of international legitimacy we have gained through statehood."
Unless the issue of settlements is addressed in accordance with international and humanitarian law as well as in compliance with the resolutions of the United Nations, Kerry will be shooting himself in the legs and his success in his peace mission would be worse than his failure. The EU's recent anti-settlement move highlighted this fact.