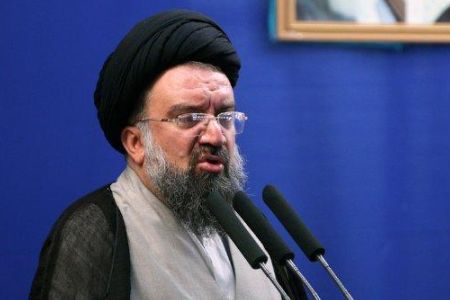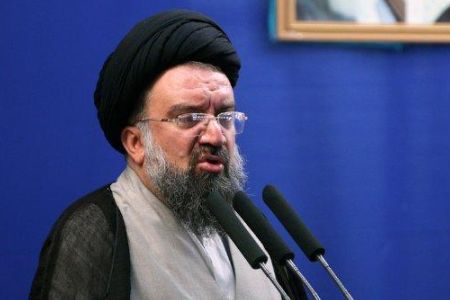 Senior Iranian cleric Ayatollah Seyyed Ahmad Khatami has strongly condemned the US-sponsored resumption of direct talks with Israel as huge betrayal to the Palestinian nation.
Addressing large crowds of worshippers following annual Quds Day demonstrations in Tehran, the capital's interim Friday Prayers leader criticized the Palestinian Authority (PA) for sitting at the negotiating table with Israel, emphasizing that the move only benefited the Tel Aviv regime by averting international attention from its crimes.
"For over 60 years, negotiations have been intended to serve the Zionist regime (Israel) with new opportunities and provide this killer regime with more breathing room," IRNA quoted Ayatollah Khatami as saying.
Referring to previous rounds of PA-Israeli talks in Madrid, Oslo and Camp David, the cleric attributed the failure of these summits to their "criminal" nature," and expressed confidence that the current negotiations in Washington is doomed to fail as well.
Ayatollah Khatami blamed Israel's continued occupation of Palestinian territories on the international community for recognizing the Israeli regime, and charged them with paving the way for Israeli crimes against Palestinians.
He cited the success of Lebanon's resistance in the 2006 war against Israel, in the face of Tel Aviv's overwhelming military superiority, and the 22-day resistance of Gazans against Israeli incursions as proofs that resistance was the key to the Palestinian victory.
"The greedy regime, which aimed to swallow up the whole world, is now wretchedly after gaining recognition in Arab countries," said the cleric, adding that this was due to the resistance the Palestinians staged against Israeli occupation.
Ayatollah Khatami condemned the unconditional and persistent US support for the Israeli regime and insisted that Washington was behind Tel Aviv's reported possession of over 200 nuclear war heads.
Referring to a five-billion-dollar annual US aid package for the Israeli regime, the prominent cleric lashed out at US President Barack Obama's pledge of 'change' — which swept him into power — as a mere election campaign ploy and a lie.
"The undividable US-Israeli ties makes it evident that there has been no change in this regard…the whole world is well aware that the US administration is an accomplice to all Israeli crimes," he stressed.