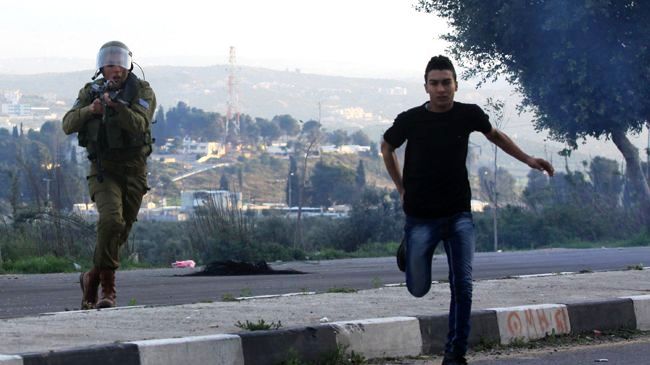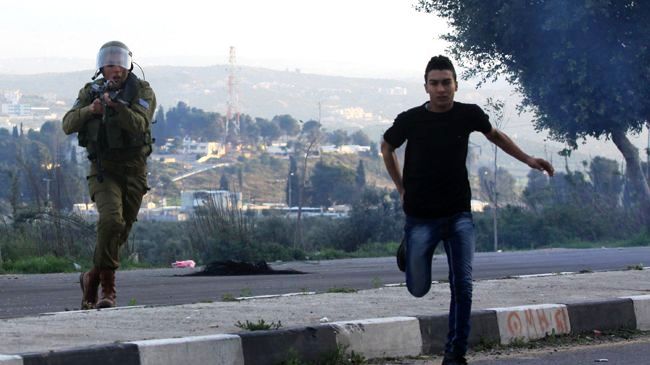 Israeli troops have clashed with Palestinians who were holding demonstrations in the occupied West Bank in solidarity with four hunger strikers in Israeli jails.
On Tuesday, Israeli forces fired tear gas and sound bombs in the northern town of Huwara to disperse hundreds of Palestinian people protesting against the Israeli regime, which is refusing to meet the hunger strikers' demands.
Israeli soldiers also clashed with demonstrators in the southern city of al-Khalil (Hebron). Similar protests were also held in the city of Ramallah.
Samer al-Issawi, Ayman Sharawna, Ja'afar Ezzedine, and Tareq Qaa'dan are on an open-ended hunger strike to protest their detention conditions in Israeli prisons.
Thirty-five-year-old Issawi, who has been on an intermittent hunger strike for more than 200 days, is said to be in a critical condition. The other three are also suffering health problems.
Also on Tuesday, UN Secretary General Ban Ki-moon expressed concern about the rapidly deteriorating health condition of the hunger strikers.
He called on Israeli authorities to find a quick solution to resolve the plight of the Palestinian prisoners.
On February 12, acting Palestinian Authority chief Mahmoud Abbas appealed to the international community to intervene in support of the Palestinian prisoners.
"Things may get out of control if the lives of the hunger strikers are not saved," Abbas said.
"We ask the international community to respond effectively to ease the situation, otherwise it will be impossible to control and it will deteriorate across the Palestinian territories," Abbas stated.
"These prisoners are on hunger strike in response to the policy of administrative detention and ill-treatment" by the Israeli regime, he added.
Administrative detention is a sort of imprisonment without trial or charge that allows Israel to incarcerate Palestinians for up to six months. The detention order can be renewed for indefinite periods of time.