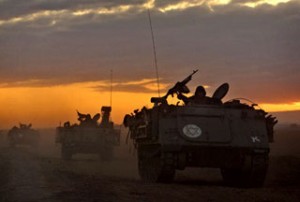 A new report said that Hezbollah has tightened security measures along the border with Israel as Tel Aviv beefs up its forces along the northern frontier.
Citing Lebanese sources, the London-based A-Sharq al-Awsat newspaper reported Friday that Israeli troops were called up to the northern borders to carry out "military maneuvers."
According to the report, the resistance movement put its forces on high alert to retaliate in the event of "surprise attack" by Israel.
The daily quoted a Hezbollah source as saying that "Israel has accustomed us to aggression and we are used to being vigilant and on the lookout all the time. That is what we are doing."
The source, however, did not confirm the security alert on border. The paper said Syria had also called up reservist soldiers, including Syrian natives residing in Lebanon.
A senior Israeli army officer, however, denied reports about an upcoming military drill along the border. He also denied any plan to attack Lebanon.
Hezbollah Deputy Secretary-General Sheikh Naim Qassem warned Thursday of an Israeli attack, which could place at any time.
"The resistance is preparing and working persistently in order to face such a possibility, whether it was delayed or sudden at any given moment," Lebanon's Naharnet quoted him as saying.
In 2006, Israel fought the 33-day war to destroy Hezbollah's military power but eventually left southern Lebanon without achieving any of its objectives.